Sooronbai Jeenbekov, a former prime minister and close associate of outgoing President Almazbek Atambayev, appears set to win the Kyrgyzstan presidential election in the first round.
Initial results from the national electoral commission showed that Jeenbekov had won 54.22 percent of the vote with over 97 percent of polling stations accounted for. Voter turnout was 55.93 percent.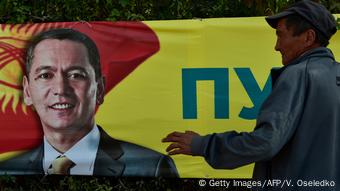 Ömürbek Babanov had been expected to receive a greater share of the vote
The result was not as close as many observers had expected with Jeenbekov's main rival, the oil oligarch Omurbek Babanov, only receiving a 33.47 percent vote share.
Polls prior to the election had shown that no candidate would receive over 50 percent of the vote, the threshold needed to win outright and avoid a second-round runoff vote.
A historic election
Nearly 3 million citizens were able to vote for one of 11 candidates, according to the country's electoral commission. A total of 370 observers from the Organization for Security and Co-operation in Europe (OSCE) were in the country to monitor the election.
Atambayev, who had promised a fair election, was not allowed to seek a second six-year term according to the constitution. It marked the first time in the former Soviet republic's recent history that a sitting president has voluntarily left office.
The first two presidents of Kyrgyzstan after the fall of the Soviet Union were ousted by violent riots in 2005 and 2010. The country then restyled itself as a parliamentary republic, limiting presidential powers mostly to foreign policy and security issues.
While Atambayev was able to strengthen some executive powers last year, he refrained from trying to hold onto power and instead backed Jeenbekov, a close ally and experienced bureaucrat.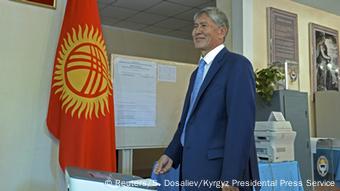 Sitting President Almazbek Atambayev has stepped down after serving one term in office
Messy politics to continue
Jeenbekov's decisive win over Babanov, who has also served as prime minister, will not change the balance of power between the two men's political parties.
Jeenbekov's Social Democratic party and Babanov's Fatherland party have been the largest and second-largest factions in the Kyrgyz parliament since elections in 2015.
Read more: Observers lament lack of transparency in Kyrgyzstan polls
Both leaders and their parties have clashed repeatedly in recent months.
Babanov accused the Social Democratic government of rigging the election to ensure Jeenbekov's victory. President Atambayev, a social democrat, in turn accused Babanov of receiving the backing of the government in neighboring Kazakhstan.
Post-election unrest thwarted?
The outgoing president warned on Sunday that he would react harshly if Babanov's supporters decided to use violence to protest the result.
"In fact, if there is unrest, it's going to be a good thing, I would like to cleanse (the country of) them all completely," he said outside of a polling booth.
The Kyrgyz national security committee earlier said that it had arrested a group of insurgents shortly before polls opened. The group, which reportedly included a former parliamentarian, was accused of planning mass unrest after the vote.
The Kyrgyz electoral commission had also said that all 2,000 polling stations in the Muslim-majority country opened without any problems on Saturday morning.
amp, ap/sms (dpa, Reuters)