Supporters of toppled Kygryz President Kurmanbek Bakiyev stormed administrative buildings, took a local governor hostage and attempted to seize an airport in what authorities are calling an attempted coup.
Bakiyev supporters seized control of government buildings in the cities of Osh, Jalalabad and Batken, and kidnapped the governor of the Jalalabad region. They also attempted to seize the airport in Osh, where demonstrators unfurled a banner proclaiming "Bakiyev - Our President," five weeks after the former president was forced into exile.
The southern region of Kyrgystan is considered a stronghold of the fugitive ex-president.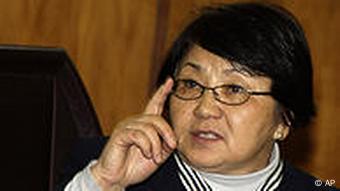 Otunbayeva has vowed to restore order
"The interim government views today's events in Osh...as an attempt by former President Bakiyev's associates to regain power," government spokesman Farid Niyazov was quoted as saying by Russia's Interfax news agency.
No deaths were reported, but the revolt represents the biggest challenge to the interim government since Bakiyev was removed from power in a violent coup in April.
Ongoing instability
The leader of the interim government, Rosa Otunbayeva, vowed to restore order.
"We have what it takes to dispel the fear existing among the public," Interfax quoted her as saying.
The impoverished central Asian country is home to both a Russian and an American military base. The American airbase in Bishkek is used to supply US troops fighting in Afghanistan.
Following the popular revolt that stripped him of his office, Bakiyev fled to Belarus, where the government has refused to extradite him to face charges in Kyrgyzstan. Belarus on Thursday that all of its diplomats had left Bishkek due to security concerns.
smh/AFP/Reuters
Editor: Chuck Penfold