Organizers estimated that at least 10,000 people would participate in Saturday's demonstration in Düsseldorf, a show of support for the Syrian border town of Kobani currently besieged by "Islamic State" fighters.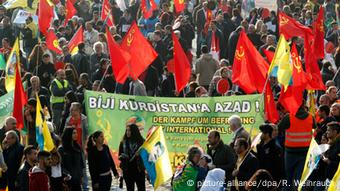 Organizers expected at least 10,000 to attend
The protesters planned to march through the city, across a bridge over the river Rhine, finishing at the site of the North Rhine-Westphalia state parliament in the afternoon. The protest's official motto reads: "Stop the terrorist IS - Freedom for Abdullah Öcalan."
Öcalan is the leader of the Kurdistan Worker's Party (PKK), currently in prison in Turkey. The PKK is outlawed in both Turkey and Germany, classified as a terrorist organization.
The town of Ayn al-Arab, more commonly called Kobane or Kobani by its majority Kurdish population, is on the Syrian border with Turkey. Some Kurdish groups have accused the Turkish government of either not doing enough to save the settlement, or even of letting it fall to the IS fighters. Turkey has resisted calls, for instance, to let PKK fighters across the border to fight in Kobani to assist the Kurdish People's Protection Units (YPG) in Syria.
Several similar Kurdish-led demonstrations have taken place across Germany, and much of Europe, in recent days as the siege of Kobani rolls on.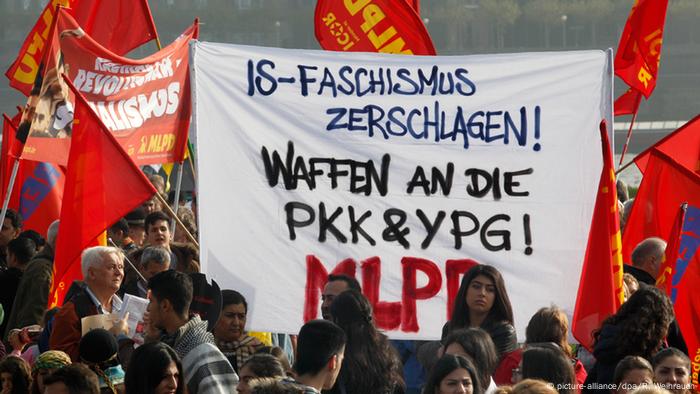 The banner's message translates as: "Destroy IS fascism! Weapons to the PKK and YPG!"
German Interior Minister Thomas de Maiziere told the news magazine Focus that he understood why the shocking images from the "IS" advance had moved people to take to the streets in protest. "My understanding comes to an abrupt end, however, with those people who misuse the demonstrations to bring violence onto our streets," de Maiziere told Focus, saying any offenders would face prosecution.
A similar protest in Hamburg earlier in the week ended in violence, reportedly between Kurdish protesters and radical Islamists from Germany's Salafist scene. In Celle on Wednesday night, groups of Kurds and counter-protesters thought to hail from Chechnya came to blows.
Despite this unrest at smaller events, police in Düsseldorf said on Saturday morning that they were expecting the demonstration to be peaceful.
msh/jm (AFP, dpa, Reuters)