Not the right question, said Mikhail Khodorkovsky, when asked whether Putin will make concessions regarding Ukraine.
Putin, he answered, had a list of Ukraine demands. He is trying to push them through.
"The question is whether Ukraine would then still be an independent and sovereign state, because I'm not sure," Khodorkovsky told DW.
Only through resistance, he added, could Putin be forced to make more reasonable conditions.
Regarding economic sanctions, the oligarch was skeptical. He was not entirely sure whether these were the right means of resistance. Instead, the Ukrainian people are the decisive factor - and must take matters into their own hands.
"If Ukraine wants to remain free and sovereign, then they must defend it."
A compromise - one that the entire Ukrainian people could support - is what he hopes for, he said.
'My fellow prisoners'
The interview took place following the Berlin release of Khodorkovsky's new book, "My fellow prisoners."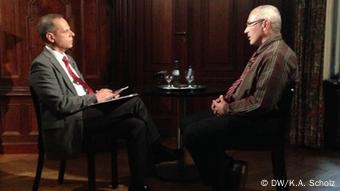 Mikhail Kodorkovski (r) during the DW interview at the Literaturhaus in Berlin
Khodorkovsky, the former head of the Yukos oil company, was arrested in 2003 and sentenced to prison in separate trials for fraud, tax evasion and money laundering.
He was interned in various Russian prisons and labor camps from October 2003 to December 2013.
In 2011, Khodorkovsky began writing a column for the Russian opposition newspaper, "The New Times."
Those texts are now collected in the book. They tell not only about his own personal experiences but about those of the other prisoners he met in the prison camps of Siberia and Karelia. Its German publisher, the Galiani Verlag, describes: "The book collects a panopticon of livelihoods and fates from a surprisingly wide swathe of Russian society."
Behind bars
Khodorkovsky says there are currently 700,000 people living in prisons in Russia. Ultimately, the book argues, statistics show that every tenth Russian spends time in prison.
But Russians ignore this in their everyday life. Khodorkovsky, himself, had to learn about humiliation - how it was used to control inmates. Justice interested no one. And this, he says, is no different in Russian society.
After the economic crisis of the 1990s, he says, Putin decided that, as a control mechanism, corruption should be the fundamental ruling principle of Russia. Khodorkovsky describes it as the underpinning of the Russian president's policy, with Putin deciding against an open society and opting for a closed one.
Economically, that cannot work in the long run, he says, and will therefore lead to collapse in a few years or an ultranationalist, fascist regime that would also destroy society.
However, as in Ukraine, there is also a way out for Russia.
"But if we don't do it ourselves, it won't happen."
'A normal life'
in December, 2013, six months before the end of his prison term, Khodorkovsky was pardoned and flown to Germany.
The former oil billionaire now lives in Switzerland in a villa on Lake Zurich for 9,500 euros ($12,900) in monthly rent. In March, the 50-year-old received a one-year residence permit for Switzerland, where his two sons attend school. Leading a normal family life was his biggest challenge after his release, he said.
Khodorkovsky wrote the book after he was released from prison; the preface is dated March 2014.