Seeing Khan Abdul Ghaffar Khan next to Mahatma Gandhi was an almost comical sight. Khan, who was well over six feet tall and weighed more than 100 kilos, seemed to overshadow the small, thin Gandhi. Khan could be very vocal when making a point while Gandhi was very shy and softly spoken by nature. They had a very unusual friendship. Gandhi was a Hindu and Khan a Muslim. Khan popularized Gandhi's teachings among Muslims. Some one hundred thousand Muslims joined his "Khudai Khidmatgar" or "Servers of Allah" movement. In time Khan convinced them of the need to follow Mahatma Gandhi's philosophy.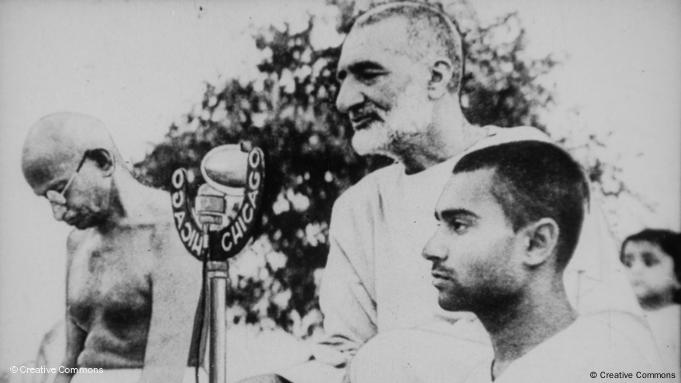 After India was partitioned Khan was accused of being a pro-Indian activist
Khan Abdul Ghaffar Khan was born a Pashtoon in 1890 in the Northwest border city of Utmanzai, located in today's Pakistan. His family were wealthy landowners. At a very early age he committed himself to eradicating poverty and realized the importance and meaning of education and literacy for society. When he was only 20 years of age he founded his first school and travelled throughout British-India to spread his ideas. Khan believed that people should earn respect based on their deeds, not on their class background. He condemned privileges and conducted himself with modesty, honesty and courage according to many of his followers. It was at this time one of his many nicknames stuck: Badshah Khan, "King of all leaders."
A shared vision
In 1928 Khan met Mahatma Gandhi for the very first time and got involved with the Indian Congress Party. Very soon he became Gandhi's closest aide. Despite their different backgrounds – Gandhi had grown up in modest surroundings but had, in contrast to Khan, attended university – the two men spent many hours together debating politics, religion, and cultural issues and laughing together. After the death of his second wife, Khan pledged not to remarry. For his part, Gandhi also vowed to renounce sexual relations, despite his marriage to Kasturba, so as to concentrate fully on politics. Gandhi and Khan shared a vision together, a vision that was stronger than everything else. They dreamed of an independent, undivided, secular India – an India where both Hindus and Muslims would live together in peace.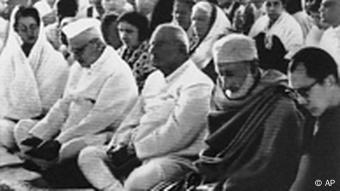 Khan visited New Delhi in 1969 to mark Gandhi's 100th birthday
Khan repeated over and over again that the concept of non-violence was anchored in the Quran and would be used as a weapon in Jihad, or "holy war." He said, "It is the weapon of the Prophet, but you are not aware of it. That weapon is called patience and righteousness. No power on this planet can stand against it." By demanding that India should not be partitioned after the end of British rule, Khan managed to make many enemies amongst Muslims. Khan came in for harsh criticism from many of his followers who favoured partition into an independent Hindu-majority India and a Muslim-majority Pakistan. It was at this time that he was given a second nickname: "Frontier Gandhi," meaning the Gandhi from the Northwest border, the region adjacent to Afghanistan.
In 2011 Faisal Khan reformed the new "Khudai Khidmatgar" or "Servers of Allah" with around 50 volunteers to commemorate Khan Abdul Ghaffar Khan. According to Faisal Khan, "Khudai Khidmatgar" was Khan's greatest achievement because he brought Gandhi's message to Muslims. Faisal Khan says, "he was always very close to Islam. Among the Pashtoons he was the first to declare that all the people belong to Allah and he was the first to unite all religions. In acting in this way he displayed great foresight. And he was truly committed to this."
Aftermath of Gandhi's death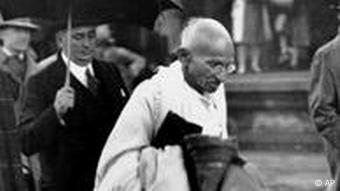 His dreams were shattered when British-India was divided into Pakistan and India
In 1947 British-India was partitioned and India and East and West Pakistan were founded, with East Pakistan achieving independence as Bangladesh in 1971. Together with Gandhi, who was already very frail, Khan watched as his vision was destroyed. After the partition and Gandhi's death in 1948, Khan lived in Pakistan. He was often accused of being a pro-Indian activist and thrown into jail. In 1969 he addressed the Indian parliament, on the occasion of Mahatma Gandhi's 100th birthday. According "When he was addressing parliament he said, 'I came to see the land of Gandhi. I wanted to see what has become of the ideals of justice and socialism.' Khan said that he wanted to see the progress made with his own eyes, wanted to be convinced. It was really a remarkable and emotional speech," says Faisal Khan.
In 1987 Khan was awarded the Bharat Ratna Prize, the highest Indian honour that can be given to civilians. He was the first non-Indian to receive this honour. He died in Peshawar in 1988 and was laid to rest in Jalalabad, Afghanistan, according to his wishes. The Muslim Gandhi had such a positive impact on the whole region that a ceasefire was declared during the civil war in Afghanistan for one day so that Khan Abdul Ghaffar Khan could be buried. This demonstrates the esteem in which he was held.
Author: Vivek Kumar / mj
Editor: Grahame Lucas