They were marching towards Rangoon. Despite warnings from the military they wanted to gather for rallies in the Burmese capital. There was only one thing on their minds: to demand their rights through protest. But they were stopped. A fleet of soldiers stood in front of them, pointing their rifles. Words were not necessary. They did not need to be told that another step forward would mean bullets ripping through their bodies. There was a moment of silence and then a boy came forward. Ripping his shirt open, he stood facing the rifles as if telling them, "Go ahead - shoot me!" It was in that moment that the officer ordered the soldiers to lower their guns. "Have we come to the point where we shoot little boys?" he said, watching the boy.
The soldiers knew she was leading them. They had orders not to let her reach the capital and here she was - standing right next to the boy. But they let her go. They let the crowd march to Rangoon, where she addressed a half million people for the first time. That was August 26th, 1988 - that was Aung San Suu Kyi. That was when the people of Myanmar heard her, and that was when they found their leader in her.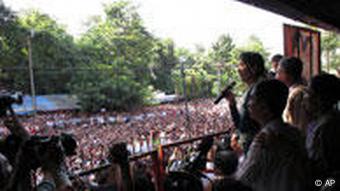 Myanmar's democracy icon, Suu Kyi, is a symbol of hope for many people
On the path of non-violence
Suu Kyi is a true Gandhian, an epitome of non-violence. Like Gandhi, she too went to England for further education. And like Gandhi, she also enter politics not by choice, but rather by circumstance. From the very beginning, her struggle for democracy has been nonviolent and peaceful. Today, after more than two decades and after repeated defeats at the hands of the military, her belief in these principles has grown even stronger.
In 2009, when she was sentenced to house arrest yet again, this time for 18 months, she said, "It is possible for you to achieve your goals fast by using all kinds of ways that might be open to you. But then this could mean that in the end you just top the goals themselves. But then when you reach where you think you wanted to get to, you find that it's a completely different scenario from what you had imagined because along the way you have created the kind of process that is barred to corrupt the end itself."
Overcoming fear
The 66-year-old politician considers Gandhi to be her inspiration. It was through his writings that she realized the true essence of ahimsa, non-violence and the importance of overcoming fear. In the book titled "After Gandhi: One hundred years of nonviolent resistance," Perry O'Brien discusses how Suu Kyi rose to prominence as a non-violent protestor and a Gandhian agitator. "I think for someone like Suu Kyi, her great contribution is the recognition of fear and the role that it plays in her politics, the role that it plays in her day-to-day life, the way it influences her decisions, the way it may prevent us from participating in the kind of movements, in the kind of struggles that can really lead to change for all of us."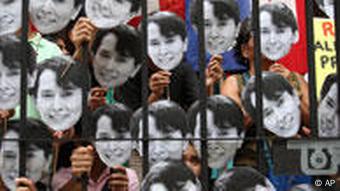 Protesters all over the world demonstrated for the release of Aung San Suu Kyi
For Perry O'Brien's mother and co-author Anne O'Brien, Suu Kyi is a real hero. In Suu Kyi she notices the calm that pervades everything she does. It is this calm that makes her compare Suu Kyi with Gandhi: "What strikes me about her is her commitment to not giving in to fear, her confidence. And this is a practice she has, something that she practices and she preaches that we must never let fear be what guides us. "
Win-win situation
The fearless and gentle face of Aung San Suu Kyi: A glowing smile and flowers in her hair, she looks today just the way she did when she entered politics - calm, composed and confident. Yet, she has her critics. Some of them believe that her long struggle for democracy has not yet born any fruits. But for people like Ramesh Sharma of the Gandhi Peace Foundation in India, success can measured in different ways. "People always tend to think in terms of success and failure. What is important here is that she has managed to attract a lot of attention within the country and outside. Some forces in this society want to suppress her and are not letting her succeed. But they will not be able to hold it for long. The path of non-violence is a long one and it demands sacrifice and compassion."
Anne O'Brien, on the other hand, considers Suu Kyi to be a winner. She has no doubts about her success. "The idea she is holding out is that when we remain nonviolent, we have already won." As Suu Kyi once said, "the struggle itself is the most important thing. I tell our followers that when we achieve democracy we will look back with nostalgia on the struggle and (see) how pure we were."

Suu Kyi believes in the teachings of Mahatma Gandhi
The struggle goes on
This is an aspect many people compare to the Indian freedom movement. Despite the British atrocities, despite the Jalianwala Bagh massacre, and despite the British divide and rule policy, Gandhi always preached truth and non-violence. "An eye for an eye makes the whole world blind" was his message.
Whether Mahatma Gandhi, Aung San Suu Kyi or Nelson Mandela – what sets them apart is their commitment. "These people become icons of movements. They are very real people, they are very much flesh and blood, they have their weaknesses, but all of them for at least a period in their lives made a pretty astonishing commitment to this idea of non-violence," says O'Brien.
The idea of non-violence has worked throughout history and we can hope that it will also be successful for Suu Kyi. Though the Burmese politician is now free after years of house arrest, she is not sure of the future. The only thing she is certain of is that her struggle will go on: "I am not scared. My attitude is that I do as much as I can while I am free and if I am rearrested, I will do as much as I can under arrest."
Author: Isha Bhatia
Editor: Sarah Berning