Police battled stone-throwing youths on Tuesday, firing tear gas and warning shots as the rioters barricaded streets with burning tires in Majengo.
The district is a predominantly Muslim neighborhood in Mombasa, Kenya's second-largest city. Looting was also reported.
In support of the rioters, Islamist militant group al-Shabaab called on Kenyan Muslims to "take all necessary measures" to defend their religion.
"Muslims must take the matter into their own hands, stand united against the kuffar (unbelievers) and take all necessary measures to protect their religion, their honor, their property and their lives from the enemies of Islam," the group said in a statement posted on Twitter. Al-Shabaab is considered a terrorist organization by the European Union and the US.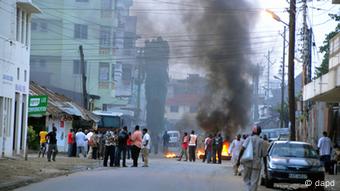 Youths set tires on fire to slow police
After one person was killed on Monday, the riots became deadly again on Tuesday when a grenade was thrown into a police truck. One police officer and one civilian were said to have been killed.
"They have attacked our officers with a grenade," said Benedict Kigen, a senior police intelligence officer in Mombasa. "They threw it inside their lorry (police truck). Two people are dead, one of them is an officer the other is a civilian."
Rage over 'Rogo' death
The violence in Mombasa erupted after cleric Aboud Rogo Mohammed, popularly known as "Rogo," was shot dead on Monday by "unknown people," according to Kenyan police. Mohammed was on the US and UN sanctions lists for his alleged support of al-Shabaab, a Somalia-based group linked to al Qaeda, which was said to have included fundraising and helping the group recruit new members.
The preacher was driving with his wife and children when gunmen opened fire on his vehicle, riddling it with bullets. Images released by his enraged supporters showed his bloody body slumped behind the wheel. Protests then erupted, with one person hacked to death, cars torched, businesses looted and at least five churches set ablaze.
The violence further strained relations in majority-Christian Kenya - and especially Mombasa, which boasts a large Muslim minority population. Islamist militants have been blamed on past grenade attacks in the port city, such as a June attack at a bar that killed three people.
Potential for more unrest
Some feared that the violence in Mombasa could fear if it taps into issues such as land ownership and unemployment, harming Kenya's vital tourism industry.
"Right now we have closed all our tourists in the hotels," said Titus Kangangi, owner of the Platinum hotel north of Mombasa. "We can't take them on safaris, we can't take them on tours of cultural sights ... because it is unsafe."
Mohammed Hersi, owner of the Whitesands Hotel, the largest resort along Mombasa's sandy Indian Ocean coastline, said tourists were worried about the unrest. "It's tricky to even take them or pick them [up] from the airport because the main highway from the airport is the epicenter of the chaos."
Kenya's tourism industry has already been hurt by the kidnappings of female tourists from beach resorts by Somali gunmen, inter-tribal clashes in the country's interior, and warning from the US and European countries to avoid the country's northern region - which borders Somalia - altogether.
bm / rc (AFP, AP, Reuters)