During a pregnancy, women have to pay between 10,000 and 15,000 Kenyan shillings ($100 to $150, 95 to 142 euros) for medical checkups, the delivery and postnatal care when they attend a private health facility. Many of them have no other choice because public hospitals are not available in the area or are often hard to reach.
Even though it doesn't sound that much, the fees at the private clinics are often too expensive for the women and their families.
"Most of the people are wage earners," said Caroline Nyongesa, health programme manager for Malteser International. "They have an unpredictable income."
If they encounter a financial emergency, they use money they should actually be saving for the birth. Many women worry during their pregnancy whether they will have the required amount of money to the pay the fees when the baby arrives.
That is why the relief organisation Malteser International developed a mobile health system called M-Afya. The "M" stands for mobile and "Afya" is Kiswahili for health.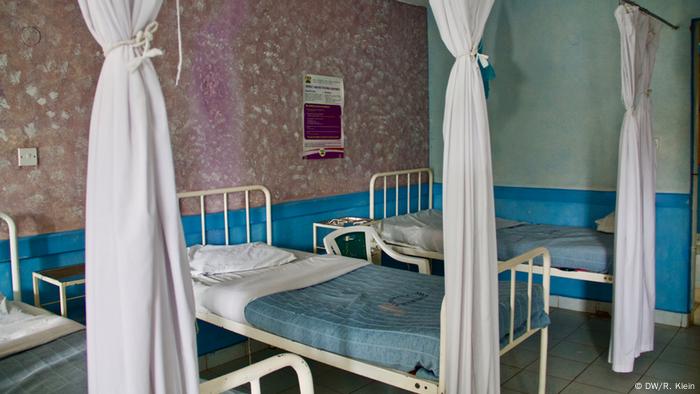 Many Kenyan mothers cannot afford to give birth at private hospitals
"For the project, the innovation was about reducing the barrier of costs," Nyongesa said. "Women have nine months and if we can focus on that, then we can get them to put money aside so that they are able to deliver without having to worry about the fee."
Saving money
M-Afya is not there to give financial support, but to assist in saving the money that it is needed. Pregnant women can register at ten different private clinics. Once they have done so, the clinic develops a birth plan and creates an account. The women can deposit money in the account via the mobile payment system M-Pesa.
"Anybody can pay into that account," explained Nyongesa. "Any well-wisher, any family member, any community member can pay as long as they have the mother's phone number."
There are no fixed amounts, everybody can just pay as much as he or she can afford, at any time. The money is locked into the account and can only be used for the delivery. It will be there when it's needed.
"It gives them peace of mind," said Nyongesa.
20-year-old Tania Sandaki also lives in Embakasi. A few weeks ago she gave birth to a little daughter. She used M-Afya to save the money for her delivery.
"It helped me that I knew that I will be able to just walk in and go in a hospital without any struggles," Tania said.
Prior to the delivery there were no discussions about money and admission to the hospital was easy because the clinic staff knew she had already saved the necessary fees.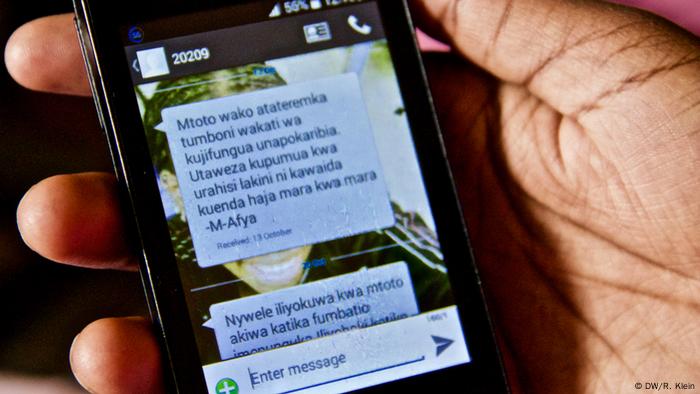 The system also send updates and information via sms
Tania is a single mother, living with her grandma since her parents died from HIV when she was a kid.
"It was my grandma and my aunt who raised my funds," Tania said adding that she's still a student and doesn't earn any money at the moment.
More than just money
M-Afya doesn't just help expectant mothers save for maternity fees, it also gives access to a database which help to promote the well-being of mother and child. Two times a week, the women who have registered – and even their husbands if they want to – receive messages on their mobile phones with information regarding their pregnancy. They are reminded of doctors' appointments, given advice about their pregnancy and sent health data of their unborn child.
"I was very green at the beginning. I didn't know anything, because it was my first baby," said Tania while smiling at her little daughter. "The messages helped me to understand what is happening with me and my baby."
Her smartphone is also right beside her because she still gets messages from the program. Even after birth, M-Afya sends messages of support to the mothers and family members.