Popular Force candidate Keiko Fujimori conceded defeat on Friday to former Wall Street banker Pedro Pablo Kuczynski, saying she would lead a "responsible opposition" in Congress for his five-year-term.
"In a democratic spirit, we accept these results," she said, five days after the neck-and-neck run-off vote. She was surrounded by members of her populist party, who control 73 out of 130 seats in Peru's Congress.
Kuczynski took home 50.12 percent of the vote, while Fujimori won 49.88 percent in the country's tightest presidential election since the 1960s. The margin was just 41,000 votes out of more than 17 million ballots cast.
While Fujimori said she accepted results, she called them "confusing" and had strong words for politicians, business leaders, and the media for running a "hate-filled" campaign against her.
Fujimori was previously favored to be the winner after winning the election's first round by almost 20 points. Fujimori's campaign suffered in the latter half of the race due to corruption scandals and fierce demonstrations against her candidacy.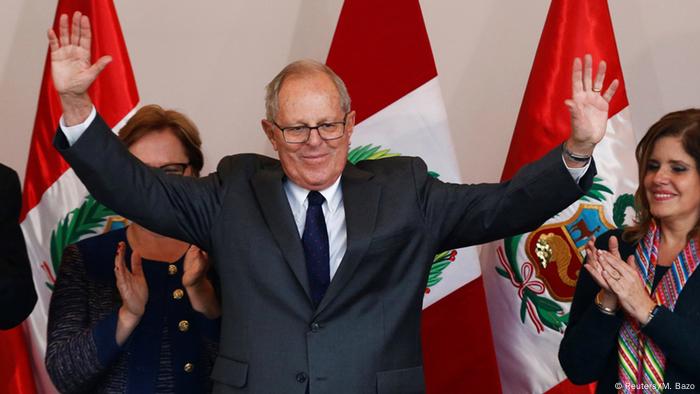 Kuczynski called for unity in Peru after winning 50.21 percent of the vote
'Time to work together'
On Friday, president-elect Kuczynski thanked Fujimori in a tweet and said: "In a democracy, all voices are welcome. We will work tirelessly for Peru."
He also called for unity in a country left torn by the election, saying on Thursday: "It's time to work together for the future of our country."
The former economy minister who studied at Oxford and Princeton universities, faces numerous challenges, including winning over the Popular Force-majority in Congress. His fledgling party holds just 18 seats.
Kuczynski has already confirmed his pick for economy minister, Alfredo Thorne, who was his campaign manager and a former J.P. Morgan investment banker. For the rest of his cabinet, he said he wants to select people with more of a background in politics.
The 77-year-old also seemed determined to seek an alliance with the 41-year-old Fujimori, even offering to sign a bill giving older inmates like her father the right to house arrest - should lawmakers pass such a bill.
The elder Alberto Fujimori is currently serving a 25-year sentence for corruption, human rights abuses and supporting death squads during his authoritarian rule in the 1990s.
Peru is one of the region's fastest growing economies and is a major mineral exporter of gold and copper. As such, Kuczynski has said his first presidential trip will be to China, whose mineral purchases have helped stoke the country's economy.
rs/jm (AP, AFP, dpa, Reuters)