Indian and Pakistani forces exchanged gunfire and mortar bombs intermittently on Tuesday, prompting thousands of villagers to leave their homes to escape the violence.
"The civilian population of both sides is being dislodged. It is not a happy situation. We want normalcy back as soon as possible," DK Pathak, director general of India's Border Security Force (BSF), told reporters in the Samba district.
The renewed clashes have sparked an exodus of more than 6,000 people from communities on the Indian side of the border since late Monday, according to Shantmanu, a senior official in India's Jammu and Kashmir state administration. Around 4,000 left after fighting began last week, most of them seeking shelter in temporary camps or with relatives.
"We had a narrow escape," Sham Kumar, 54, from Sherpur village told Reuters. He said he left his home after a shell landed in a school a few kilometers from the border.
"There is a war-like situation...Pakistani troops are using long-range weapons. It is the first time we have seen such intense shelling."
Several hundred civilians in Pakistan-controlled territory fled their homes on Tuesday morning, said Mohammed Shohaib, an official with a patrol manning Pakistan's border with India.
Frontier flare-up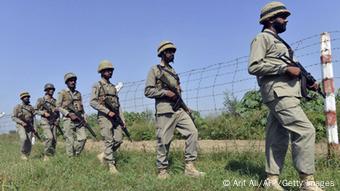 Islamabad and Dehli blame each other for the border violence, which intensified in October and has been on and off since then.
At least four Pakistani civilians and an Indian BSF soldier were killed on Monday, bringing the death toll since New Year to at least 10. DK Pathak said that the militaries of both sides had not been in touch since Sunday.
"We have not initiated this firing, but if our civilians and troops are targeted, we will respond," DK Pathak said. Pakistani officials were not immediately available for comment.
The latest spike in violence comes just days before US Secretary of State John Kerry is due to attend a summit in Gujarat in western India. President Barack Obama is scheduled to visit the country's Republic Day military parade later in the month.
"There have been some steps over the past year, that you know, where there have been more positive exchanges. Obviously, there's more work that needs to be done," US State Department Spokesperson Jen Psaki said on Monday.
"We certainly remain concerned and watch over tensions along the border, and we encourage dialogue between the countries," she said.
Kashmir has been a source of conflict between India and Pakistan, both of which claim the region as their own. The nuclear-armed neighbors have fought three wars over the Himalayan territory since Pakistan separated from India following independence from Britain in 1947.
nm/rg (Reuters, dpa, AFP, PTI)