Workers installed a 5.5-meter (18-foot) statue of Karl Marx in Trier's city center on Friday ahead of celebrations to mark the 200th anniversary of his birth.
The huge bronze figure was mounted atop a pedestal right in front of the former Marx family home, but it won't be unveiled to the public just yet. That spectacle has been reserved for his birthday on May 5.
Marx, one of the fathers of socialist thought, authored the "Communist Manifesto" in 1848 and later "Das Kapital" (Capital), both of which had a significant impact on the politics and conflicts of the 20th century.
Controversial gift
The 2.3 ton statue was a present from the People's Republic of China — a fact that has fueled plenty of debate in the community in recent months.
"The glorifying Marx monument is a poisonous gift from China," said Ulrich Delius, director of the Society for Threatened Peoples, adding that it was "sad," that the city had accepted a statue from a government that "commits state terror against its own people."
Dieter Dombrowski of the Union of Victims' Associations of Communist Tyranny called the gesture "bizarre."
Marx was "not just a scientist and philosopher," he said. He also "laid the spiritual foundations for the communist dictatorships that came afterwards."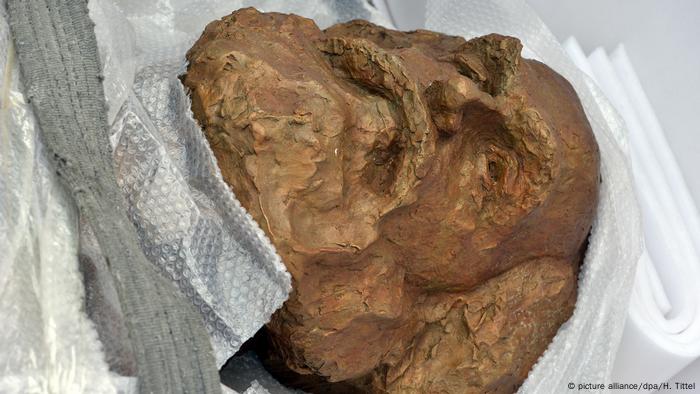 The artwork donated by China has proven controversial with citizens of Trier
Trier's council voted to accept the gift in early 2017. Councillor Andreas Ludwig said the statue, created by Chinese artist Wu Weishan, wasn't about glorifying Marx's ideology but rather aimed to encourage discussion about his work. He added that it was important to maintain ties with China given that the city is visited by 50,000 Chinese tourists annually.
"Karl Marx is one of the biggest citizens in this city and we should not hide it," Trier Mayor Wolfram Leibe said.
The statue depicts a pensive Marx in a frock coat stepping forward with his left foot. City authorities said it would be guarded overnight in the leadup to next month's unveiling ceremony.
Marx was born on May 5, 1818, in Trier and spent the first 17 years of his life there. The city in Germany's wine-growing Mosel region has planned around 300 events to celebrate the bicentenary of his birth.
nm/rt (KNA, dpa, epd)
Each evening at 1830 UTC, DW's editors send out a selection of the day's hard news and quality feature journalism. You can sign up to receive it directly here.