Kalashnikov, a company more known for its AK-47 machine guns than its electric vehicles, unveiled its new electric car on Thursday.
The powder-blue prototype, dubbed the CV-1, was unveiled by the Russian arms maker at a defense expo outside of Moscow.
Kalashnikov Concern told Russian media that the technology within its "electric supercar" will rival that of Elon Musk's Tesla.
"This technology will allow us to stand in line with the world's electric car manufacturers, like Tesla, and compete with them," a spokesperson told Sputnik.
According to the company, the vehicle can travel 350 kilometers (217 miles) on a single charge.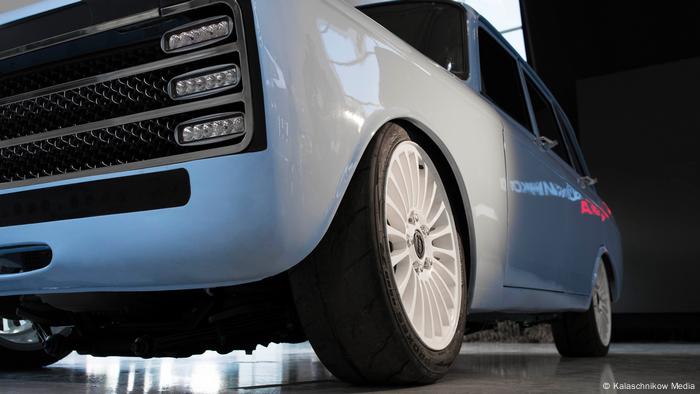 Kalashnikov says the technology in its new electric car will rival that of Tesla
Design raises eyebrows
The car's retro look was inspired by a Soviet hatchback model developed in the 1970s, the "Izh-Kombi," Kalashnikov said in a statement on its website.
The CV-1's light blue color, large grill, retro door handles and boxy frame have received mixed reviews from Russians.
On social media, some described the car as "cyberpunk" while others referred to it as the "Izh-Zombie."
"Your tanks are great, but it would be better if you stayed away from cars," one user wrote on the company's official Facebook page.
The company also faced online ridicule after it released images of a new bipedal combat robot that is still in the production stage. Some compared the golden-colored robot with guns for arms to those used in the Star Wars movie franchise.
Kalashnikov Concern has been trying to expand its brand for several years, branching out into civilian merchandise including clothing lines, umbrellas and mobile phone covers.
Every evening at 1830 UTC, DW editors send out a selection of the day's hard news and quality feature journalism. You can sign up to receive it directly here.