King Abdullah II appointed Omar al-Razzaz (pictured above) on Tuesday to form a new government in an apparent move to defuse major protests over price hikes.
On Monday, former Prime Minister Hani Mulki resigned during a meeting with King Abdullah. Mulki had been summoned by the monarch following five days of protests against planned austerity measures by the government of the desert kingdom.
Razzaz served as education minister in the outgoing government and previously worked as a former World Bank economist.
Since the king calls the shots on all policy issues, it is unclear what mandate Razzaz will have to take measures to pacify the protesters.
Read more: Jordan's middle class revolt
Unpopular austerity measures
Widespread anger over the government's recent austerity policies prompted mass protests in recent days that saw around 60 people detained and 42 security personnel injured.
Protesters were particularly angered by a tax hike earlier this year as well as the abolition of bread subsidies. Both measures were pushed for by the International Monetary Fund (IMF) to get Jordan's rising public debt under control.
Last month, the government adopted a draft law which would increase taxes on employees by around 5 percent and on companies by as much as 40 percent. The measures have yet to be approved by parliament, however most lawmakers opposed the proposed taxation.
Jordan's economy has suffered in recent years, affected by high unemployment and an influx of refugees from regional conflicts, particularly in neighboring Iraq and Syria. Jordan also hosts almost half of the roughly 5 million Palestinian refugees and their descendants in the region.
Middle East analyst James Dorsey warned that Mulki's departure may not be enough to satisfy protesters. "Jordanians may this time round not be pacified by cosmetic measures like Mulki's resignation and the temporary rescinding of price and tax hikes," he said.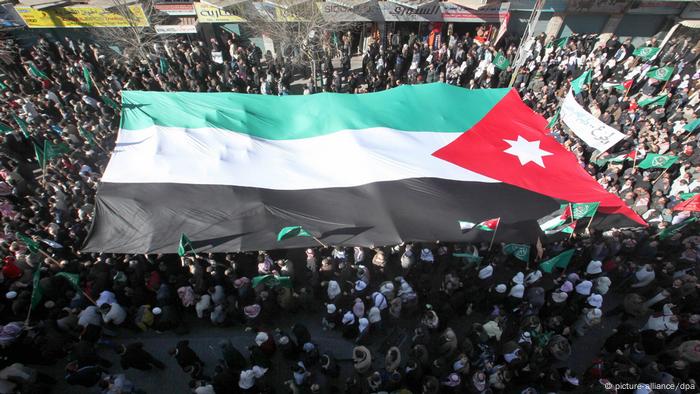 There are still hundreds of protesters on the streets of Amman
Ongoing protests
Hundreds of protests continued to take to the streets of Amman on Tuesday, chanting anti-government slogans in the country's capital.
The country's trade unions called for more protests to be held on Wednesday.
Read more: Jordan faces dire straits as anti-austerity protests widen
"When the protests began, they weren't just directed against [former Prime Minister] Mulki as a person; they were against the income tax draft law and the price hikes," Bushra Abu Jabbara, a 34-year-old pharmacist, told AFP news agency.
"We want the government to respond to our demands and withdraw the bill, which hasn't happened yet," she added.
But Jordanian political analyst Samih al-Maitah believes the government was taking the protesters' demands seriously.
"The income tax draft law is almost certain to be dropped now," he said.
Read more: German foreign minister sees 'other side' of refugee plight in Jordan
shs/rs (dpa, AP, Reuters, AFP)