Jordanian Prime Minister Hani Mulki resigned from his post during a meeting with King Abdullah II on Monday, according to an official website linked to Jordan's military.
Mulki had been summoned by the monarch following five days of protests against planned austerity measures to implement by the government of the desert kingdom.
What we know so far:
Mulki's resignation was accepted by the king.
Omar al-Razzaz, a former World Bank economist and the current education minister, was asked by the monarch to form a new government, according to government sources.
Sixty people were arrested for rioting and carrying bladed weapons during the protests, according to Major General Fadel al-Hamoud, director of public security with the police.
Around 42 police officers were wounded from gunshots or fireworks, he told reporters.
'May not be enough'
Middle East analyst James Dorsey warned that Mulki's departure may not be enough to satisfy protesters. "Jordanians may this time round not be pacified by cosmetic measures like Mulki's resignation and the temporary rescinding of price and tax hikes," he said.
Anti-austerity protests in Jordan: Widespread anger over the government's recent austerity policies prompted mass protests in recent days against a tax hike as well as the abolition of bread subsidies. Around 60 people were detained during the protests with 42 security personnel injured. Both measures were pushed for by the International Monetary Fund (IMF) to get Jordan's rising public debt under control.
Income tax law: Last month, the government adopted a draft law which would increase taxes on employees by around 5 percent and on companies by as much as 40 percent. The measures have yet to be approved by parliament, however most lawmakers opposed the proposed taxation.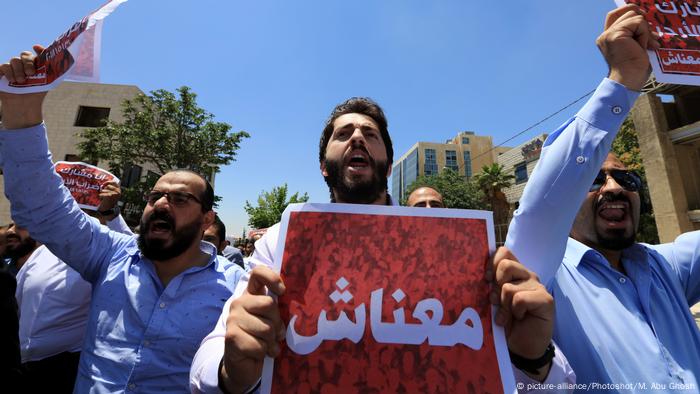 Protesters have also criticized the government for corruption and wasting public funds
How long did Muli serve as prime minister? Mulki, a business-friendly politician, was appointed prime minister in May 2016. He was tasked with boosting the country's sluggish economy that has been hit by instability in the region.
Economic downturn: Jordan's economy has suffered in recent years, affected by high unemployment and an influx of refugees from regional conflicts, particularly in neighboring Iraq and Syria. Jordan also hosts almost half of the roughly five million Palestinian refugees and their descendants in the region.
Read more: German foreign minister sees 'other side' of refugee plight in Jordan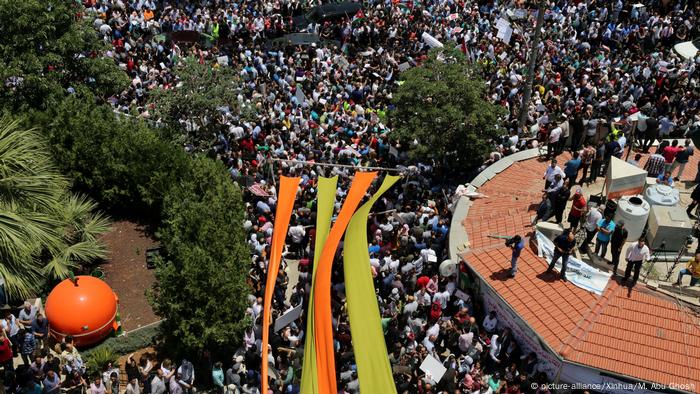 Jordanians protest against the income tax draft law in Amman
In 2016, Jordan secured a three-year loan, amounting to 723 million dollars, from the IMF, with the aim of lowering the country's public debt from about 94 percent of GDP to 77 percent by 2021. Fuel prices have increased five times in the kingdom since January and electricity bills have gone up 55 percent since February.
The government stood firm on the proposed income tax law, saying it aims to fight tax evasion. Critics said a proposed lowering of the annual tax-free allowance to 8,000 dinars (€9,629, $11,283) from 12,000 dinars could have a negative impact on working and middle class families. Trade unions said a strike planned for Wednesday will go ahead.
amp, rs, kw/kms (AP, AFP, dpa, Reuters)