At a ceremony in Amman on Sunday, von der Leyen (in photo with King Abdullah) formally delivered the armored vehicles, which form part of the "Reinforcement Initiative" in which the German government supports trustworthy states in troubled regions.
Following the delivery of the 16 "Marder" armored vehicles, a further 34 are to follow before the end of next year.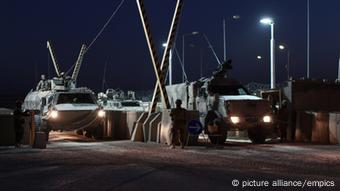 Marder armored vehicles in Afghanistan in 2013
"Jordan is a bulwark against terror," von der Leyen said. "That is why it is permanently important to support Jordan as well."
The cost of the defense aid for 2016 is 100 million euros ($94.6 million) rising to 130 million euros in 2017. Jordan is also to receive 88 million euros over two years for armaments. Furthermore, the Middle East country, which borders Syria and Iraq, is to receive 70 trucks and 56 minibuses to be used for military purposes.
Von der Leyen explained the rationale for the "Reinforcement Initiative," which also includes Iraq, Tunisia, Mali and Nigeria. Niger is due to be added next year. "If we are not prepared to assist these countries with their security they will soon be overrun by terrorists," von der Leyen said.
1.5 million refugees
On her visit to Jordan, von der Leyen went to the Zaatari refugee camp which has given shelter to about 80,000 refugees from Syria. It is the second largest refugee camp in the world and has been described as the fourth largest city in Jordan.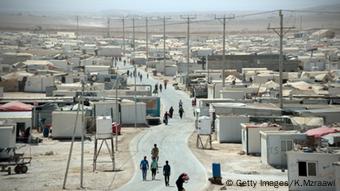 The UN-run Zaatari refugee camp north east of Amman
The defense minister paid tribute to the Jordanian authorities and to aid agencies, speaking of "outstanding acts of humanity and compassion."
At the end of her four-day tour in the region, von der Leyen met with King Abdullah and Queen Rania.
jm/sms (dpa, ARD)