The biggest demonstrations in years have rocked the Jordanian capital Amman and several other cities in response to planned tax hikes and more expensive fuel and other basic goods. The government's policies are based on recommendations by the International Monetary Fund (IMF).
Vowing they will not "kneel," protesters earned support from trade unions as well as a majority of MPs opposed to new taxation.
Protesters had also called on embattled Prime Minister Hani Mulki to step down. The politician, whose popularity had plummeted amid the unpopular tax increases, on Monday reportedly submitted his resignation during a meeting with King Abdullah in an apparent bid to soothe the widespread anger.
Mulki, a business-friendly politician, was appointed in May 2016 and given the responsibility of reviving a sluggish economy and business sentiment hit by regional turmoil.
"The government has made us penniless ... they have left us with no more money in our pockets," protesters had chanted outside Mulki's office in Amman on the fifth consecutive day of protests.
Also read: German foreign minister sees 'other side' of refugee plight in Jordan
The protest campaign started on Wednesday when hundreds responded to a call by Jordan's trade unions by flooding the streets outside the headquarters of the federation of unions.
"This is not just about taxes," said Dr. Dina Rezk, an expert on Middle Eastern politics at the British University of Reading. "The recent protests are a symptom of a much more existential problem for Jordan: It is a tiny state, composed mainly of Palestinian refugees that is entirely dependent on handouts," she said.
"While a crucial ally for the West and a beacon of stability in the region, it is particularly vulnerable to unrest in Palestine and global austerity initiatives."
Although Jordan, mostly a desert kingdom with few resources, remained stable through years of turmoil in the region, it has seen prices of several basic goods and services like bread, fuel and electricity steadily rising over the past year.
Over-reliance on foreign aid
Last month, the Jordanian government proposed a new income tax law, aimed at raising taxes on employees by at least 5 percent and on companies by between 20 and 40 percent.
The government says it needs more funds for public services and argues that tax changes reduce social disparities by placing a heavier burden on high earners and leaving lower-paid state workers relatively unscathed.
The measures are the latest in a series of economic reforms since Amman secured a $723-million (€620-million) three-year credit line from the IMF in 2016. It's supposed to help reduce Jordan's public debt from about 94 percent of GDP to 77 percent by 2021.
Although PM Mulki was able to reduce budgetary deficits since 2016, rising operational costs and stagnant sources of revenue kept the kingdom reliant on foreign aid. A report from the Carnegie Middle East Center think tank from March described Jordan's fiscal discipline measures as "squeezing an already weak economy." It also said the Arab state has "barely begun the process of economic restructuring necessary for a sustainable economy."
Jordan's low GDP growth of just above 2 percent "can be entirely accounted for by foreign aid," the report noted further. External stimuli including the $1.78 billion it received last year for hosting Syrian refugees and the $1.5 billion in remittances from citizens working abroad together account for 11 percent of GDP.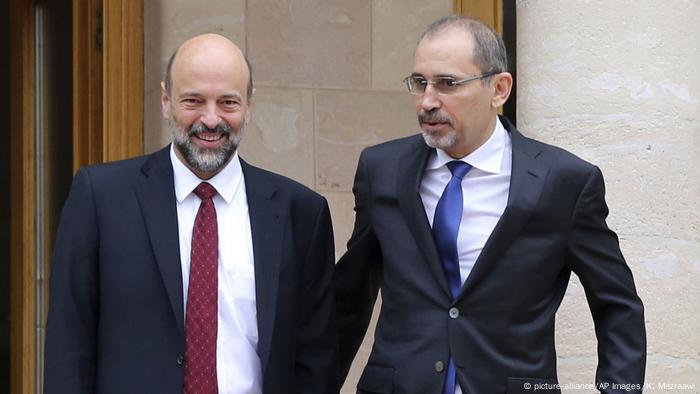 Economist and former minister of education Omar Ahmad Munif Al Razzaz (right) has been tasked with forming a new cabinet
"To survive," the authors concluded, "Jordan needs to find a way to reduce military spending … and radically restructure its economic model — or else get used to living permanently on the edge of economic ruin."
According to official estimates, 18.5 percent of Jordan's population of 9.5 million are unemployed, while 20 percent are on the brink of poverty.
Can the new government revive the economy?
Protest organizers have urged the king to cancel the tax plan, saying the poor are being targeted disproportionately. The king has indicated he's willing to make gestures, saying earlier last week that Jordan's citizens cannot be expected to bear the entire burden of economic reform.
But the government is also under pressure from the IMF to carry out said economic reforms and austerity measures to rein in growing public debt.
Jordan's parliament is considering seeking King Abdullah's permission on Monday to convene an exceptional session over the planned tax hikes, which a majority of MPs want the government to withdraw.
On Monday, Jordan's dollar-denominated bonds fell across the curve.