A team of nearly a dozen experts from the International Atomic Energy Agency (IAEA) is in Japan to review stress tests carried out on the country's nuclear reactors. The team is expected to be there for a week and will submit their final assessment next Tuesday before they leave.
The 12-member IAEA team has examined the results of a stress test carried out on reactors 3 and 4 at Oi Nuclear Power Station run by Kansai Electric Power Co, which had been endorsed last week by Japan's Nuclear and Industrial Safety Agency.
Utilities giant TEPCO, had to shut down reactor 5 of its Kashiwazaki-Kariwa Nuclear Power Plant in Niigata prefecture on Wednesday.
The nuclear plant operator now only has one out of a total of 17 reactors running at the moment.
TEPCO said all of its 17 reactors will be offline by the end of March, when Kashiwazaki-Kariwa's reactor 6 goes off the grid for inspection.
The stress tests come as a result of public and political pressure to assess the plants' ability to withstand earthquakes and tsunamis following the March nuclear disaster at TEPCO's Daiichi Nuclear Power Station in the Fukushima prefecture. The plant suffered a meltdown in at least one reactor in the aftermath of the March 2011 earthquake and tsunami, creating the world's worst nuclear disaster since Chernobyl.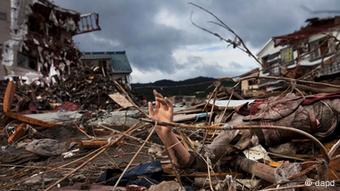 The March earthquake and tsunami caused Japan's worst nuclear disaster
Off the grid
Currently only four of Japan's 54 nuclear reactors are in service. The rest have been shut down in a wave of tests and servicing, which Tokyo in July announced would be carried out in two phases. All of the country's reactors are scheduled to be shut down for servicing by the end of April this year.
When or whether or not they will go back on the grid at all has yet to be seen, as utilities companies find themselves unable to reactivate the reactors in the face of growing public concerns about atomic power.
Around 30 percent of Japan's energy needs were met by nuclear power before the Daiichi disaster.
Giant bailout
TEPCO, which is struggling under the financial burden of cleanup and damages for the victims of the meltdown in Fukushima, is due to receive a giant government bailout of around 13 billion US dollars (9.8 billion euros). The cash injection is considered to be the largest outside of the banking sector and would give Tokyo a two thirds share of TEPCO, thus virtually nationalizing it.
Author: Sarah Berning (dpa, Reuters)
Editor: Grahame Lucas