Last week Japanese Prime Minister Naoto Kan was in a precarious position as his approval ratings tumbled, his foreign minister resigned and funding bills for a new state budget were at an impasse. Such issues, however, have been put on the back burner after the country was hit by the strongest earthquake on record and the subsequent tsunamis it unleashed.
The impact of the 8.9-magnitude quake may now threaten an economic recovery that was seen to be gathering momentum in the first quarter of this year after losing steam in the fourth quarter of 2010.
"The quake is expected to have considerable impact on a wide range of our country's economic activities," said Chief Cabinet Secretary Yukio Edano.
The earthquake and tsunami have damaged or closed down key ports. Some airports shut in the immediate aftermath have since reopened, but transport infrastructure has been crippled along parts of the northeast.
Analysts say it will take weeks to get a firm handle on the true extent of the damage inflicted on the nation and its economy.
"The timing of the disaster could not have been much worse," the research consultancy Capital Economics noted in a report.
Factories and oil refineries shut down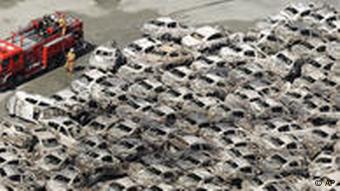 Several automakers announced the total suspension of production
The aftermath has seen top Japanese firms suspend their operations in the affected areas. Automakers Toyota, Nissan and Honda have announced the total suspension of production in Japan until at least Monday. Electronic giant Sony said it halted production at six facilities in the region. One factory was flooded, but the other five did not suffer major damage.
Fuji Heavy Industries said it had closed eight of its ten factories, including all five car and car parts-related plants for its Subaru-brand vehicles in Gunma prefecture, north of Tokyo. It also suspended operations at its aircraft and power products factories in Tochigi.
The Japanese oil industry has also temporarily shut down its operations, as fires broke out in various oil refineries. Cosmo Oil said a fire had broken out near an LPG tank at its Chiba refinery and had not been extinguished by Sunday, though its intensity had lessened. Maruzen Petrochemical said it had closed two plants with capacities of 480,000 and 690,000 tons of ethylene per year, respectively. Kyokuto Petroleum also said it had shut its Chiba refinery, with a capacity of 175,000 barrels per day.
"Temporary closures of factories and oil refineries and the shutting down of power stations are likely to affect output throughout the country," noted Wolfgang Leim of the German Commerzbank. "Economic output may therefore shrink again slightly in the first quarter."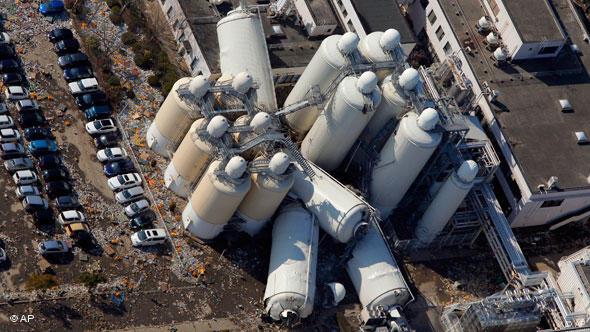 A number of factories were severely damaged in Sendai, northern Japan
Economic hopes thwarted
Japan's economy contracted in the October-December 2010 quarter as the expiration of auto subsidies hit car sales, a new tobacco tax sapped cigarette demand and a strong yen hurt exports.
Before the quake struck, expectations were for the Japanese economy to be lifted by the rising tide of a global economic pickup in the first quarter as increasing export demand drove production higher.
But "the fragile economic cycle is not in a position to withstand significant disruption," noted Richard Jerram of investment banking group Macquarie.
There have been proposals of an extra budget to help pay for the huge cost of recovery, but the government says there is also a 200-billion-yen (1,8-billion-euro, $2.4-billion) budget reserve for the current fiscal year which can be used.
On Monday, the Bank of Japan is expected to pledge to supply as much money as needed to prevent the disaster from destabilizing markets and its banking system. It is also expected to signal its readiness to ease monetary policy further if the damage from the quake threatens a fragile economic recovery.
Author: Ben Knight (Reuters, AFP)
Editor: Toma Tasovac