On Thursday, Japanese officials criticized South Korea for charging a journalist with defamation. Prosecutors indicted the former Sankei Shimbun Seoul bureau chief Tatsuya Kato (pictured) Wednesday, concluding the journalist had based an August 3 report he wrote about President Park Geun-hye on "false information."
Japan's chief Cabinet secretary, Yoshihide Suga, called the indictment "extremely regrettable in the light of freedom of press and relations between Japan and South Korea." He added: "In particular, the law should be enforced with restraint in terms of freedom of press, which should be treated with utmost respect in democratic countries. That's an international norm."
Kato, 48, told the Sankei Shimbun - which is often critical of South Korean politics and generally unpopular in the country - that "he believed writing about where Park was, and how she responded to the ferry sinking, had a bearing on the public good."
Though officials have not arrested Kato, they have barred him from leaving and limited his movements while he faces questioning on the charge, which carries up to seven years in prison. Japan would convey its concern to South Korea and demand detailed information on Thursday, Suga said.
'Falsehood'
On August 3, Sankei ran Kato's report alleging that Park found herself in a secret rendezvous with a divorced former aide for a seven-hour period when the ferry sank on April 16, killing an estimated 300 people. In building his case, Kato, whose term as bureau chief ended in September because the newspaper adheres to limited appointments, cited chitchat among stockbrokers in Seoul and quoted the South Korean daily Chosun Ilbo, which first reported the rumor but has not faced charges of its own.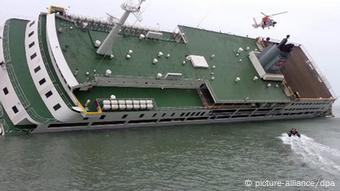 A conservative group filed a defamation suit against the bureau on August 9. Nine days later, prosecutors initially questioned Kato, who remains under surveillance with his movement limited, alleging that he violated a law against conducting illicit acts over the Internet. In indicting Kato, the Seoul Central District Prosecutors Office alleged that his article had defamed Park, accusing the Japanese journalist of "not making the minimum efforts" to verify the facts, Kyodo reported.
Japan's Foreign Ministry could lodge a formal protest over the indictment, according to Kyodo.
mkg/kms (Reuters, AFP, dpa)