China's news agency Xinhua quoted the deputy head of China Marine Surveillance, Xiao Huiwu, as saying the ships' transit through island waters on Friday had "demonstrated China's jurisdiction over the Diaoyu Island and its affiliated islets."
Japan, which calls the island group Senkaku, on Sunday called on China to ensure the safety of Japanese citizens and businesses.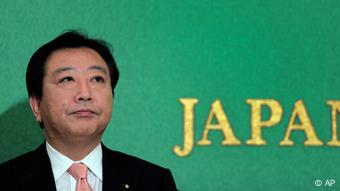 Noda has urged Beijing to safeguard Japanese in China
"This situation is a great disappointment," Japanese Prime Minister Yoshihiko Noda told Japanese television. "I would like to urge the Chinese government to protect their safety."
Visiting Tokyo on Sunday, US Defense Secretary Leon Panetta warned Asian nations that have recently been engaged in maritime territorial disputes in the East China and South China seaa that "provocative behavior" should not lead to military confrontation.
Protests lauded
In a commentary, Xinhua had termed protests in dozens of Chinese cities on Saturday and Sunday as a "reasonable move and natural reaction" to what it called Japan's provocations.
Sunday's biggest reported protest took place in the southern Chinese city of Shenzhen, where protesters attacked a Japanese department store. police intervened with tear gas, water cannons and pepper spray.
Xinhua wrote of protests in five cities. The Chinese social network Sina Weibo showed rallies in half a dozen other cities. A protest outside the Japanese embassy in Beijing was guarded by police squads standing six-deep.
Protesters threaten 'war'
Demonstrators held aloft portraits of China's late revolutionary leader Mao Zedong. Some used loudspeakers saying China should "declare war."
The news agency Reuters quoted the dissident Beijing-based artist Ai Weiwei that he believed the demonstrations were sanctioned by the Chinese authorities.
"Chinese citizens need to thank the Japanese government because for the first time, they can mount a large protest on their own land," Ai said. "In China, there are no protests organized by the people."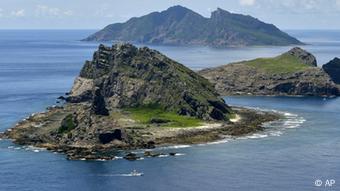 Japan's bought the islands from private Japanese owners
In Shanghai, 1,500 people marched on the Japanese consulate. Authorities allowed them in small groups to enter cordoned-off areas.
Last week, Japan announced that it had completed the purchase of the islands from their private Japanese owners.
On Friday, Japan's coastguard said the visiting Chinese ships had only cruised adjacent waters for about seven hours.
The disputed maritime area is thought to contain valuable natural gas reserves.
ipj/ch (Reuters, AFP)