The Japanese government has lodged a strong protest with its counterpart in China after an article in a Chinese state-run newspaper suggested that Okinawa was previously a "vassal state" of China and that its sovereignty should be reconsidered.
The protest was passed to Beijing through diplomatic channels, officials at the Foreign Ministry in Tokyo told DW.
The lengthy article appeared in Wednesday's edition of the People's Daily newspaper, a mouthpiece of the Chinese Communist Party, and was written by Zhang Haipeng and Li Guoqiang. The two are scholars at the Chinese Academy of Social Sciences, the nation's leading state-run think-tank, and the commentary stated that China had a historical and genuine claim to what used to be the Kingdom of the Ryukyus and was annexed by Japan in the late 1880s.
As well as previously being a "vassal state," China has strengthened its claim by stating that Japan's surrender at the end of World War II nullified a treaty signed in 1895 under which China ceded territory to Japan.
'Unresolved historical issue'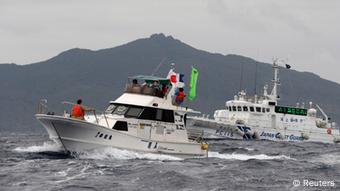 Taiwan also wants a say in Senkaku talks
"It may be time to revisit the unresolved historical issue of the Ryukyu Islands," the historians concluded.
Speaking at a press conference in Tokyo on Thursday, Chief Cabinet Secretary Yoshihide Suga said Okinawa Prefecture "is unquestionably Japan's territory, historically and internationally."
The two East Asian rivals have been in open dispute over the Senkaku Islands, which Japan presently controls but Beijing claims as its territory and marks on its maps as the Diaoyu islands. And although China has in the past raised questions over Japan's control of Okinawa, experts here see these latest claims as an escalation of efforts by Beijing to flex its muscles in the region.
"The territorial claim is just ridiculous," said Go Ito, a professor of international relations at Meiji University in Tokyo.
"If Japan ever had the temerity to claim that any part of China was historically part of Japan because it was conquered in the early decades of the last century, Beijing would immediately cry 'imperialism!'," he said. "But now they want to use ancient classical writings as the basis for their claim to Okinawa."
"This claim has no foundations because it's a question of international law, not ancient history."
He added that the international community would laugh at Italy should it use the same logic to claim virtually all of Europe as its territory on the grounds that it was once under the control of the Roman Empire.
Fear in Okinawa
"People in Okinawa have been reading about Beijing's claims and I have to say that they are quite afraid," Yasukatsu Matsushima, a professor of economics at Kyoto's Ryukoku University, told DW.
Speaking from Okinawa, Professor Matsushima said the latest comments from Beijing indicate that "Beijing is showing its intention to invade Okinawa."
The professor also dismissed Beijing's claims to the islands, saying that while the Ryukyu Kingdom did indeed have a trading and diplomatic relationship with China, it could not be considered a vassal state and "did not obey China's orders."
Professor Matsushima equally has reservations about Japan's annexation of the islands and is a firm believer in independence for Okinawa.
There is without doubt a strong degree of mistrust of the central government in Tokyo among the islands' residents, a large part of which is as a result of their treatment at the hands of the Japanese military during the dying days of World War II and the subsequent - and ongoing - occupation of much of their land by a massive US military presence.
A 'wake-up call' to politicians in Japan
Exploiting the schism
China may be looking to exploit that schism between Okinawan people on one side and the national government of Japan and the US on the other, although it is very unlikely that they would choose to exchange Japanese nationality for Chinese.
The problem will come, analysts believe, when China fails to make diplomatic progress in taking the Senkaku and uses force. Once that has been done, they anticipate that the Chinese military will start to nibble away at other remote islands in the archipelago.
"I see this as a tactical move by the Chinese Communist Party, but I do believe that China is seeking to capture the Okinawan islands in the future," said Yoichi Shimada, a professor of international relations at Fukui Prefectural University.
"It might be difficult for them to invade the main island - that is not a realistic aim because the US Marines are stationed there - but this is part of their plan to take the Senkakus, then some of the more remote islands, such as Yonaguni," he added.
The professor added that he hopes this latest statement of intent from the Chinese regime serves as a "wake-up call" to politicians in Japan who might simply be hoping that the threat to the nation's territory will blow over.