Egyptian photojournalist Mahmoud Abu Zeid, better known as Shawkan, will be awarded the 2018 UNESCO/Guillermo Cano Press Freedom Prize, the United Nations cultural branch announced on Monday.
"The choice of Mahmoud Abu Zeid pays tribute to his courage, resistance and commitment to freedom of expression," said jury president Maria Ressa.
Read more: 'I am a journalist, not a criminal'
Shawkan has been in prison since August 14, 2013, where he reportedly faces the death penalty. He was arrested while covering violent clashes between supporters of ousted President Morsi and security forces in Rabaa Al-Adawiya Square in Cairo, which left hundreds of Islamist protesters dead.
Zeid was selected for the award by an independent international jury of media professionals. He has contributed to publications including Time Magazine, Die Zeit, BILD, Media Group, and online photo agency, Demotix.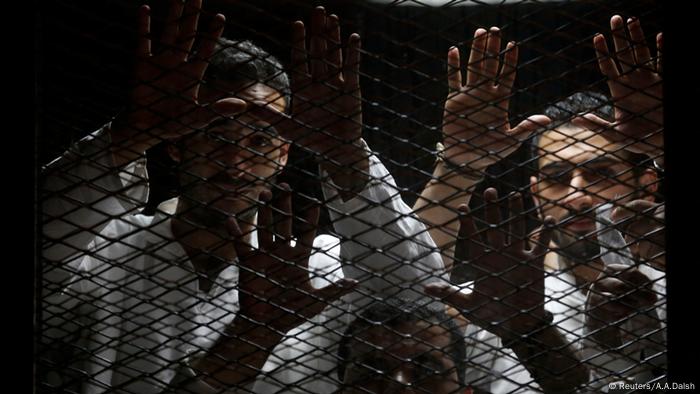 Mahmoud Abu Zeid has been in prison since August 2013, where he reportedly faces the death penalty
'I am a journalist not a criminal'
In a letter Shawkan wrote to DW on World Press Freedom Day in 2015, he said, "I don't know when this nightmare is going to end just because I was doing my job as a photojournalist during the operation of the dispersal of the Rabaa al-Adawiya protest camp."
Read more: Rabaa riots 'darkest day in Egyptian modern history'
"I am living in a tiny cell under harsh conditions that an animal wouldn't bear and am facing false accusations with no grounds of truth and mixed up with protesters who were arrested," he continued.
The letter ended with the words: "I am a journalist not a criminal…HELP ME!!"
Shawkan had been in prison, where he remains, for more than 600 days at the time.
Read more: Freedom of the press in Turkey: a slippery slope; Interview Özgür Mumcu
The UN Working Group on Arbitrary Detentions has determined Shawkan's arrest and detention is arbitrary and contrary to the rights and freedoms guaranteed by the Universal Declaration of Human Rights and the International Covenant on Civil and Political Rights.
The Press Freedom Prize recognizes a person, organization or institution that has made an outstanding contribution to the defense or promotion of press freedom especially in the face of danger. It is named in honor of Guillermo Cano, a Colombian journalist who was assassinated in front of the offices of his newspaper, El Spectador, in Bogota, Colombia on December 17, 1986.
The Prize will be awarded on World Press Freedom Day in May, celebrated this year in Ghana under the theme "Keeping Power in Check: Media, Justice and The Rule of Law."