Their term in office began with a major shock. While Enrico Letta and his ministers were taking their oaths, shots were fired outside Chigi Palace, the official residence of Italy's prime minister.
The shooter, who according to reports was a deranged man in a suit and tie, injured two police officers and one pedestrian, though he is said to have intended to strike politicians. He attempted to flee immediately after the attack, but was caught and suffered injuries. The swearing-in ceremony was carried out according to plan, despite the disruption, but the cabinet ministers appeared upset by the incident.
A wide spectrum
Italy's new head of government managed to combine old and new when forming his government. New faces can be seen in the 21-person team, which includes seven women. One of them is newcomer Cecile Kyenge, a Congolese-born doctor and human rights activist and Italy's first black minister. She was given the post of integration minister.
Another newcomer is German-born Josefa Idem, a former canoeist and winner of multiple Olympic medals. She is now sports and equal opportunities minister.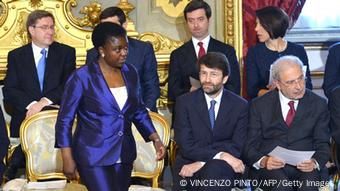 Cecile Kyenge is Italy's first African-born minister
But sharing the bench with the new arrivals are members of the old government, who hold some of the most important posts. Infrastructure and Transport Minister Maurizio Lupi hails from former Prime Minister Berlusconi's People of Freedom (PDL) party, as does the new interior minister, Angelino Alfano, who is also assuming the position of deputy prime minister. The particularly high standing of the latter should help relieve Berlusconi's disappointment over not being able to fill the justice minister post with one of his people. The new justice minister is Anna Maria Cancellieri, an independent left over from the interim government of Prime Minister Mario Monti.
The burning question now is whether the justice reform deemed urgent by Berlusconi will be among the new government's top priorities. For Enrico Letta, the most important issues to tackle are unemployment and the financial crisis.
"Small and mid-sized businesses are the heart of our economy," Letta told the press. "The young university graduates who move abroad because they can't find work here is an emergency that we need to deal with."
Skepticism and cautious optimism
The key positions of labor minister and economics minister have been assigned to independents. Anselmo Soffri, who lives in one of the most productive areas of the northern Italian Lombardy region, sees this as a stroke of luck.
"They will finally do something for the economy," Soffri told Deutsche Welle. "There are all these factories facing closure and nobody is helping them! Some business owners have committed suicide because they didn't want to fire their employees but weren't able to pay them anymore either." He has little faith in the politicians' ability to solve the country's grave economic problems.
Homemaker Rodolfa Pannetti, who was randomly asked about her views of the new government, put her finger squarely on the crux of the matter: "Letta said that his government would prioritize the needs of the people of the country. It should always be like this anyway - that's what a government is for. Let's hope that this one holds out for a while - the internal rivalries are very noticeable."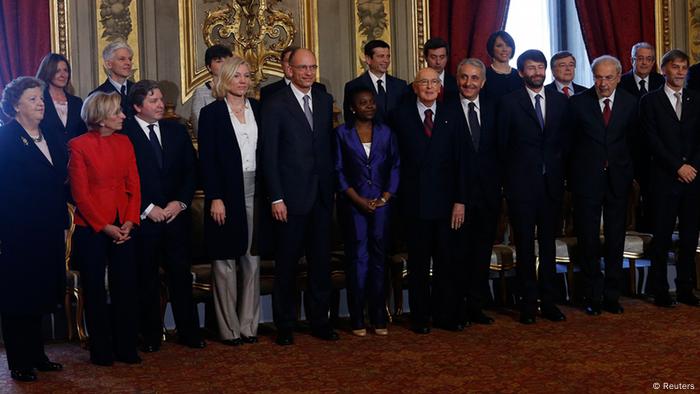 Some are skeptical about the new government's ability to effect positive change
Rivals under one roof
Indeed, the new cabinet brings together people of very different political convictions. A left-wing economic development minister needs to work together with a right-leaning infrastructure minister to achieve the right conditions for increased productivity and competitive capacity. This is no easy undertaking, but Italy badly needs some kind of economic impetus.
Meanwhile, Berlusconi is pleased with the current political constellation. Although only a quarter of the population voted for his party alliance, he still gets a say in the new government. Apart from having five PDL ministers in the cabinet, the party presented Letta with an eight-point plan and, according to PDL spokesman Renato Brunetta, he accepted all the proposals. "In this regard, we've achieved a significant victory," added Brunetta.
At the same time, Letta's ruling Democratic Party is presenting the new government as "the only possibility" - and putting up with derisive comments coming from the media owned by Berlusconi.