A flooding crisis which plagued several Italian regions over the past 48 hours eased on Saturday, leaving authorities the task of assessing damage from the natural disaster. A man's body was found dead near Turin and the body of another male was recovered near Genoa on Thursday, while three people, two in Sicily, one in Liguria, remain missing.
"Unfortunately we still have no news of my father-in-law, we are desperate," a relative of one of the missing from Sicily told the ANSA news agency. Authorities only found the moped the man was riding on and his helmet.
Hundreds of people had to be evacuated from their homes and many roads, schools and businesses were closed across affected regions as the River Po and its tributaries burst their banks in numerous places. Production of Nutella and other confections was stopped at Ferrero Rocher's factory in Alba as a precautionary measure because of the high level of the nearby Tanaro river. A landslide destroyed several unoccupied holiday homes on the border between Liguria and Piedmont near the French border and threatened to engulf another mountain village from where eight people were evacuated via helicopter.
But Piedmont's regional Civil Protection agency said the situation was "greatly improving," with river levels falling. It said about 610 people were left homeless, while more than 20 could not move from their villages. Rain let up across Italy, but the levels of the Po, the country's biggest river running through its northern plains, remained dangerously high and was at risk of overflowing near Pavia, south of Milan.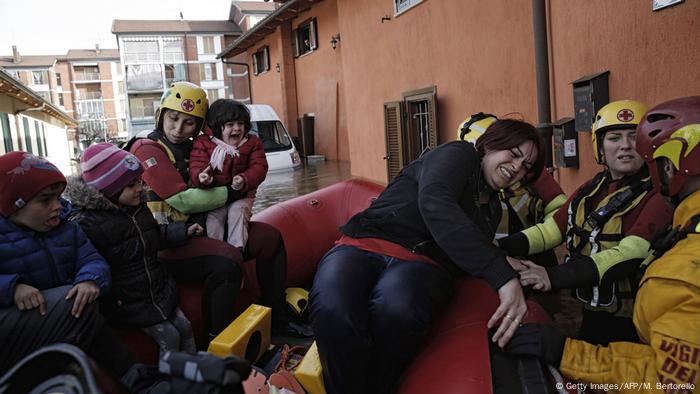 An Italian Red Cross rescuer holds a child as other rescuers help a woman to get in an inflatable dinghy used to evacuate people in Moncalieri
Many towns and villages damaged
The financial cost of the floods has yet to be tallied but the agricultural lobby Coldiretti said 50 percent of orange production in affected Sicilian provinces may have been lost. The group said natural disasters has cost Italy 14 billion euros ($14.83 billion) in the last 10 years. Climate change is a factor, but poor planning that has led to rapid building over low-lying farmland has also aggravated the problem, Coldiretti said. It said 88 per cent of Italian municipalities are at risk of floods and landslides. The flooding has revived painful memories of 1994, when 70 people were killed by flooding in the same region.
jar/jlw (dpa, AFP)