The Italian government has formally launched a procedure to revoke the license held by Autostrade per l'Italia to operate toll highways after a bridge the firm managed collapsed in Genoa this week, killing at least 38.
"Today the government...has formally sent to Autostrade per l'Italia the letter of complaint that launches the process for revoking the concession," Prime Minister Giuseppe Conte said in a statement.
The statement blamed Autostrade for the tragedy and said the firm "had the obligation to look after the ordinary and extraordinary maintenance of the motorway."
Conte also said the government will strengthen monitoring and inspection powers at the Ministry for Infrastructure and would force private motorway operators to invest more of their profits in maintenance and safety.
Autostrade has 15 days to respond to the letter. But Deputy Prime Minister Matteo Salvini said the procedure for revoking the license would take "weeks or months."
Some sector experts estimate that the government may have to pay Autostrade up to €20 billion ($22.85 billion) in compensation if it cancels the license. The government denied that it would be required to compensate the company for its investments.
A Genoa court will try to establish the exact cause of the collapse of the Morandi Bridge on a highway that links Genoa to the French border west of the Mediterranean port city.
Search for survivors
At the place of the tragedy, rescue teams used jackhammers and cranes to remove debris in a desperate bid to find survivors.
Hundreds of firefighters have been racing against time to find those missing.
"We are trying to find points where we can penetrate these incredibly heavy slabs. Then the earthmoving equipment moves in to create a passageway where the dogs can enter," firefighter Stefano Zanut said at the scene.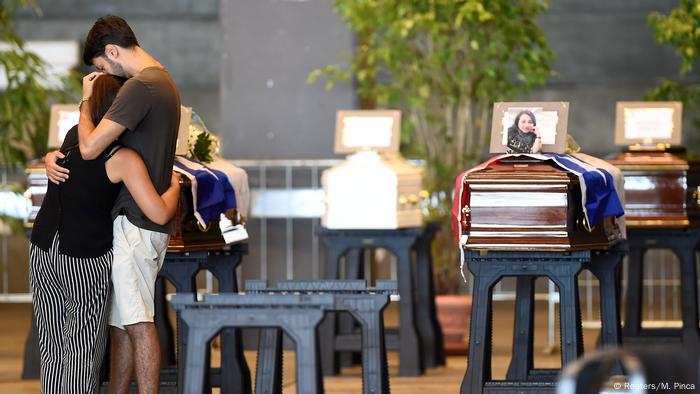 Some coffins have already been placed in a large hall for the state funeral, and family members visited them on Friday.
State funeral
A public funeral for many of the victims will be held on Saturday at Genoa's convention center. The event will be led by the city's archbishop, Cardinal Angelo Bagnasco, and attended by President Sergio Mattarella and Conte.
Two local newspapers reported that relatives of 17 of the 38 confirmed dead plan to boycott the ceremony out of anger with authorities.
Some coffins have already been placed in a large hall, and family members visited them on Friday.
The Italian government has declared Saturday as a national day of mourning.
In Rome, the Colosseum, the Trevi fountain and the town hall building will turn off their night-time illumination as a mark of respect for the victims, local authorities said.
ap/sms (Reuters, dpa)
Each evening at 1830 UTC, DW's editors send out a selection of the day's hard news and quality feature journalism. You can sign up to receive it directly here.