After meeting with NATO and EU officials in Brussels, Libyan Prime Minister Seraj flew to Rome on Thursday where he and his Italian counterpart Paolo Gentiloni signed a memorandum of understanding aimed at furthering cooperation between the two Mediterranean nations to try and halt the influx of migrants into Europe.
In the agreement, Italy will provide money, training and equipment to the UN-supported Libyan government so it can improve control over its borders and strengthen its coast guard. A key goal will be to reduce the massive human trafficking industry that smuggles migrants across both the Libyan desert and the Mediterranean sea in highly dangerous circumstances.
Seraj also told reporters that the deal included "humanitarian repatriation" of migrants.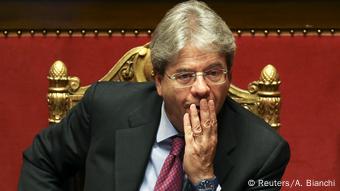 Gentiloni agreed to provide training and aid to Libya
A precursor to EU meetings
Gentiloni alluded to Friday's meeting of EU leaders in Malta, describing the memorandum as "just a piece" of broader EU-wide plan that will be discussed in Valletta. He also called on the other 27 members states to commit more funds in order to fight the migrant flow.
"If we want to give real strength and legs to managing migration flows, then there needs to be an economic commitment by the whole of the EU," Gentiloni said.
Although the EU already provides aid to Libya, primarily through the European Neighborhood Instrument, Seraj told leaders in Brussels that current financial contributions were not enough.
"We hope that the EU mechanisms to help Libya will be more practical. We are not going to mention the amount of money ...dedicated to Libya for this help because they are very humble, very small amounts," he said at EU headquarters.
At the Malta summit, EU leaders are expected to pledge additional funds and increased maritime support to the Libyan government.
The main entryway into Europe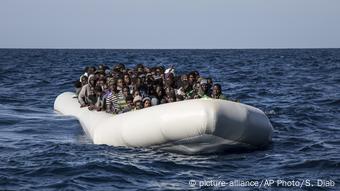 Italy has rescued hundreds of thousands of migrants at sea since the crisis began
The north African nation serves as the primary entry point for migrants into Europe, putting a heavy operational and financial burden on Italy. Since the beginning of the migration crisis, the Italian Coast Guard has undertaken the rescue of hundreds of thousands of sea-borne migrants, with over 1,750 migrants rescued by various ships over the last 24 hours.
According to the International Organization for Migration, 5,083 individuals died in the Mediterranean Sea in 2016.
cmb/jm (AP, Reuters, AFP)