"It is a very scary moment and many people are simply in panic," says Ghebrihiwet Tekle, a young Eritrean asylum seeker sitting in the office of the Hotline for Refugees and Migrants, an Israeli non-governmental organization in Tel Aviv. The 37-year old works here as a translator for the Tigrinya language. The mood is somber: A few days earlier, the Israeli Population, Immigration and Border Authority launched a controversial campaign to call on Eritrean and Sudanese asylum seekers to either leave to a third country or face indefinite time in jail in Israel. They must make their decision by the end of March.
At a cabinet meeting on Wednesday, Prime Minister Benjamin Netanyahu praised the plan. "Infiltrators have a simple choice," he said. "Either cooperate with us and leave voluntarily, respectfully, humanely and legally, or we will have to make use of the other means at our disposal." Although the scheme had already been widely criticized by human rights groups, Netanyahu also issued instructions to look into the possibility of forced expulsion, due to concerns over high costs and overcrowding in prisons, according to a report in the Israeli newspaper Ha'aretz. Officials however have called such plans "unrealistic."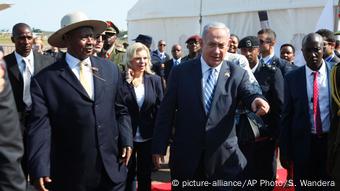 President Netanyahu (center right) with Uganda's President Museveni during a 2016 visit to Africa
Now, with the clock ticking, most people in Eritrean and Sudanese communities in Israel feel extremely vulnerable, says Tekle. He knows their stories and problems all too well from his own experience. "They say that certain categories are excluded from being deported. But who knows, after they finish with them, they come to us. There is no guarantee," Tekle said. An estimated 37,000 Eritreans and Sudanese live in Israel. They arrived between 2006 and 2012 before the country finished building a high tech security barrier to close the route that brought many people across the Egyptian Sinai peninsula to Israel.
Almost no recognition of refugees
Until today, the overwhelming majority of African migrants has not been given refugee status: Only eight Eritreans and two Sudanese nationals have been recognized as refugees, according to figures from the UN High Commissioner for Refugees (UNHCR). Everyone else is on a temporary visa that must be renewed every three months. People who do not have a refugee application pending will be advised the next time they renew their residency permit to take a free plane ticket and be paid US $3,500 (€2,908) to leave the country. The alternative is to go to jail. People confined in the Holot detention center in southern Israel will also be pressured to leave as the facility will be closed.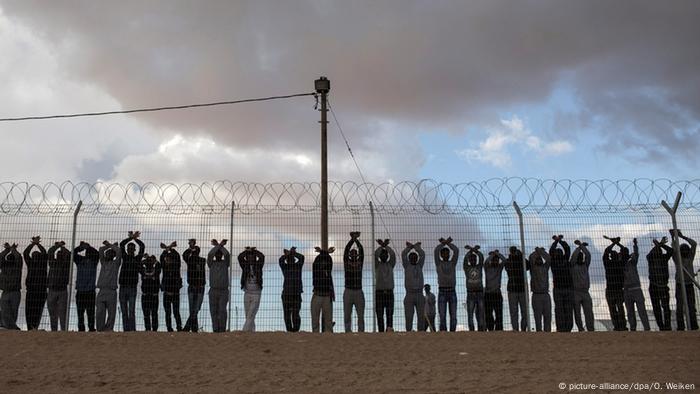 A protest by inmates at the Holot detention center in the Negev desert
According to reports, during the first stage of the operation, families, children, people over sixty, victims of human trafficking and those who applied for refugee status will not be affected. "The recognition of asylum in Israel is below one percent. In Europe for example, the average recognition rate for Eritreans is about 90 percent," said Tamara Newman from the Hotline for Refugees and Migrants. When Sudanese and Eritreans entered the country they were given "group protection." But they were also told that they were not allowed to apply for asylum. But even submitting individual asylum requests has proven difficult over the past year, Newman said. "There is one office in the entire country in which people can lodge their applications. There is a line that starts in the evening for people to be let in at 7 a.m. the next morning. And they let in a hundred people a day."
Living in constant uncertainty
Ghebrihewet Tekle submitted his application three years ago and is still hoping to be granted refugee status. The soft-spoken young man fled from Eritrea after being arrested during protests as a student, and later being forced to serve in the army for three years. Compulsory army service isa common practice in the East African country, which has one of the worst records of human rights, according to international rights groups. "I saw myself without any future there, so I decided to take the risk to leave my country," Tekle said. First he fled to Ethiopia where he stayed in a refugee camp for one year. He continued his journey to Sudan and later had to pay smugglers to cross the Sinai to reach Israel in 2007.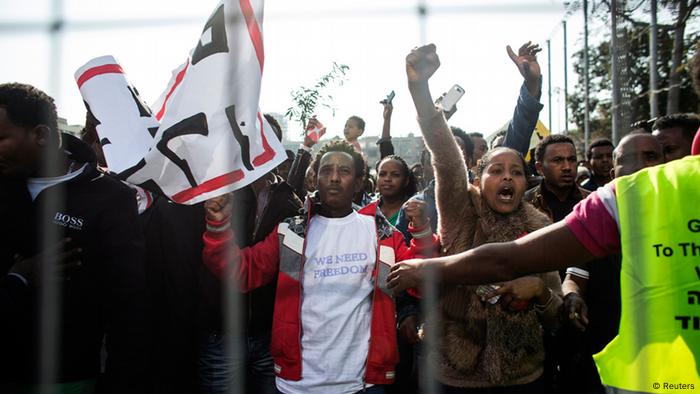 A demonstration by African migrants in Tel Aviv in 2014 against the slow processing of asylum requests
In Israel, the army took care of him during the first few days. Some new arrivals were sent to prison, others were given a bus ticket to Tel Aviv where many settled in the poorer neighborhoods of Tel Aviv. This prompted long standing tensions with local residents. Rather than being seen as refugees, the Africans are mostly called "infiltrators" and "economic migrants." For years, their presence in Israel has been subject to an often heated and at times populistic debate. Tekle said he is thankful and lucky to have found safety in Israel. But with a cloud of uncertainty hanging over the near future, the focus is now on what happens next. Israeli human rights organizations have warned about the potential risks. Cases of people who have already left Israel under the so-called "voluntary departure program" to third countries showed that some were vulnerable to threats of violence and extortion. And some had again become refugees, ending up in Libya trying to cross the Mediterranean. For Ghebrihiwet Tekle, leaving is not an option. "I prefer to go to prison until my country is safe to go back to. Rwanda or Uganda is not an option for me. I don't feel safe there." he said.