Letters offering a plane ticket and $3,500 (€2,800) on Sunday reached the first of what Israeli newspaper Haaretz said were between 15,000 to 20,000 African migrants.
Israel's immigration authority said the notices were delivered only to single men among 38,000 persons, mainly Eritreans and Sudanese.
Those told to leave had until late March or face jail and eventual expulsion, the authority warned.
The plan to send them to an unnamed African country under a secret agreement was announced on January 3 by Israeli Prime Minister Benjamin Netanyahu.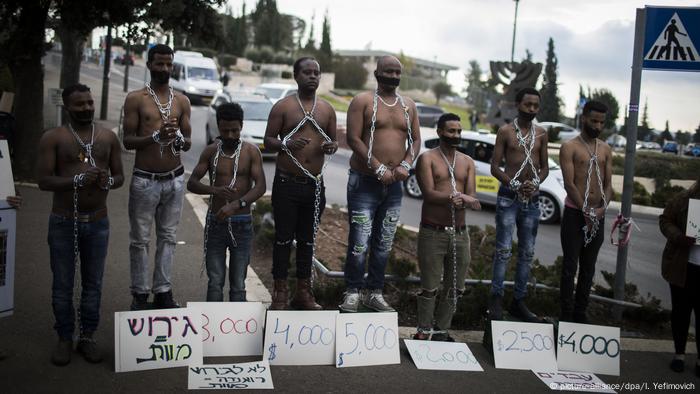 January: Eritrean migrants demonstrating in Jerusalem
His government classes the asylum seekers as economic migrants, using the term "infiltrators" to describe those entering from Egypt.
In 2014, thousands of African migrants protested in Tel Aviv against their treatment by Israeli authorities.
Destination Rwanda or Uganda?
Uganda and Rwanda have denied claims by aid workers that Israel sees them as destinations for migrants who accept the monetary inducement and depart. Some have lived in Israel for more than a decade.
Until 2012, when Israel erected barriers along its border with Egypt, 60,000 migrants had reached the relatively prosperous nation.
Of these, 20,000 have since left. Some of the others were locked up in a large detention center, Holot, in Israel's remote southern desert.
Netanyahu urged to reconsider
Some Israeli airline pilots have reportedly said they will not fly forced deportees. The UN refugee agency has called on Israel's cabinet to scrap its plan, calling it incoherent and unsafe.
Last month Holocaust survivors in an open letter urged Netanyahu to reconsider, and academics published a petition, saying the deportations would damage Israel's image as a refuge for Jewish migrants.
Many of the affected asylum seekers have said they prefer Israeli imprisonment over returning to Africa.
Eritrea has long been ranked by the UN as an abusive state. Sudan's President Omar al-Bashar is wanted by the International Criminal Court.
ipj/ng (AP, dpa, AFP)