The UN Human Rights Office reported on Tuesday it had received reports that at least 195 former security force members were abducted in the Tel Afar area West of Mosul.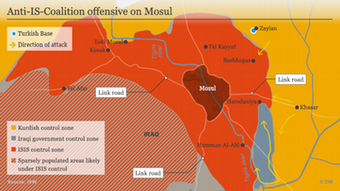 The report comes day after a mass grave with 100 headless bodies was reported in a town recently recaptured from the so-called 'Islamic State' (IS) south of Mosul.
UN spokeswoman Ravina Shamdasani told a press conference in Geneva that in addition, at least 100 former officers were reportedly abducted in Mawaly village, 20 kilometers west of Mosul. Of those, 30 sheiks were kidnapped, 18 of whom were killed in Sinjar district.
"We are working to get more information about the people who were killed," Shamdasani said.
The bodies were found in the same area where IS killed 50 former Iraqi police officers on October 23. It was still unclear whether the latest discovery was from the same or from a different mass killing, Shamdasani said.
IS fighters have also reportedly forced 1,500 families to withdraw from the city of Hammam al-Alil towards Mosul airport and are being used either as human shields or killed, the spokeswoman said.
Rebels in neighboring Syria are fighting to take the city of Raqqa, after Mosul a key IS stronghold.
jbh/kl (Reuters, dpa)