It was the show of a new era: The cruise ship MSC Grandiosa was christened on Hamburg's Elbe promenade in front of thousands of onlookers. As at the Hamburg Cruise Days in September, light artist Michael Batz bathed the Hafencity in deep blue again on Saturday evening with his light installations. The color was to underline the connection to nature and the claim to environmental compatibility of the new cruise ship, the shipping company MSC emphasized. This is because their new ship with a capacity of 4,888 passengers is cleaner than the rest of the fleet. Catalysts and improved wastewater systems — all for the sake of the environment. But also, because ships will be subject to stricter limits on sulfur emissions from 2020 onward.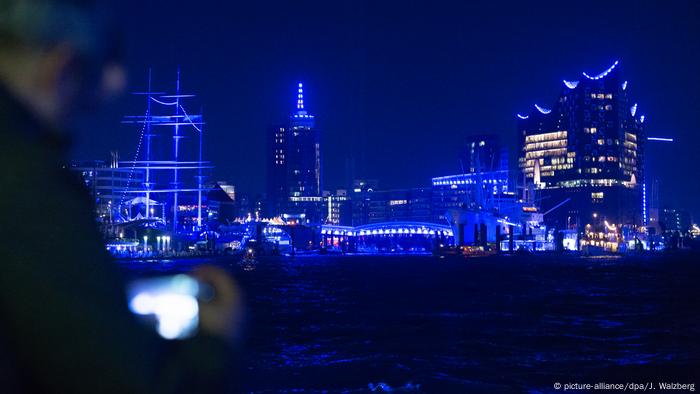 Light installation "Blue Port"
Hapag Lloyd even goes a step further. The shipping company has announced its intention to completely eliminate the toxic heavy-oil fuel from July 2020. The entire fleet of five ships is to be converted to marine diesel. This means 80 percent less sulfur and 30 percent less soot and fine particles: "Sustainability and the environment have always been very important to us, because we want to protect what fascinates our guests and us," Hapag Lloyd Cruises explained in writing to DW.
Get away from the "dirty polluter" image
The industry seems to have been in a state of flux since market leader AIDA commissioned the AIDANova, the first cruise ship to run entirely on liquefied natural gas (LNG), in December 2018. Since then, the shipping companies have been virtually outdoing each other in their commitment to environmental protection and sustainable travel. They want their industry to leave the image of being a "dirty polluter" behind them. In the future, their customers are to discover the world with a clear conscience on their ships. The shipping companies are investing millions in this. And they can afford it: the market is booming; the profits are enormous.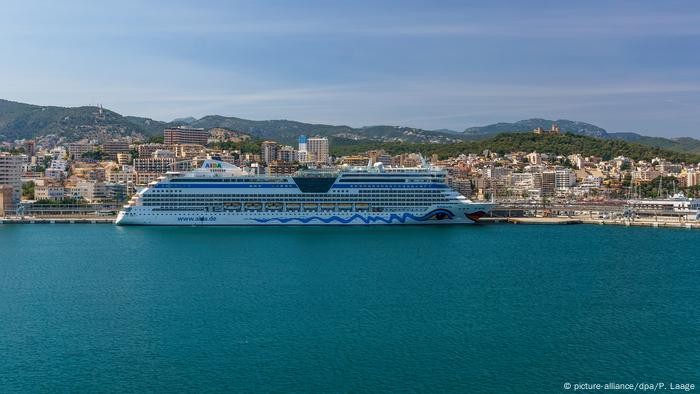 Fewer ships, more cruisers: Although the number of visits to Majorca is declining, the number of ships is increasing
However, environmentalists like Daniel Rieger do not yet want to talk about transformation. The Head of Transport Policy of the German Nature and Biodiversity Conservation Union (NABU) welcomes the "first re-orientation" of the industry. The majority of the world's 550 cruise ships, however, will continue to operate on heavy fuel oil — the most toxic fuel of all. The fact that almost 30 new cruise ships are to be equipped with the relatively clean liquid gas LNG engine in the coming years is pleasing, Rieger said in an interview with DW, but at the same time emphasized: "The industry is now trying to respond to exhaust pollution. However, it does not have an answer to climate pollution." In fact, liquefied petroleum gas significantly reduces ship emissions. However, it only minimally reduces climate-damaging CO2 emissions. Environmentalists like Daniel Rieger therefore see liquid gas propulsion as just an interim solution.
Climate protection: Norway is a pioneer, Germany is following suit
Norway has shown that it is possible to take bigger steps when it comes to climate protection. The government in Oslo has decided that the West Norwegian UNESCO World Heritage fjords can only be navigated without emissions as of 2026.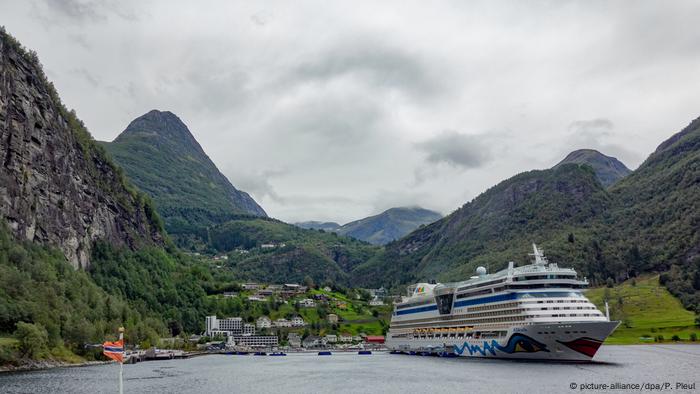 In future, shipowners will have to comply with strict rules if they want to enter the Geirangerfjord
This means that not only the heavy oil liners, but also the cleaner LNG ships will have to remain offshore in the future. The Norwegian shipping company Hurtigruten supports the course of its government. It relies on a hybrid propulsion system consisting of a battery and marine diesel, even bio-gas is being used. This enables its new cruise ships to move electrically through the sensitive fjord waters without CO2 or pollutant emissions. In addition, the batteries optimize fuel consumption on the high seas. In 2019, the MS Roald Amundsen with a capacity of 530 passengers was the first ship of its kind to be launched. Two sister ships are to follow soon. Daniel Rieger of NABU welcomes Norway's initiative: "Hardly any legislator dares to go beyond the current technical possibilities. It is therefore all the more gratifying that Norway is now setting standards that cruise operators really have to stretch to."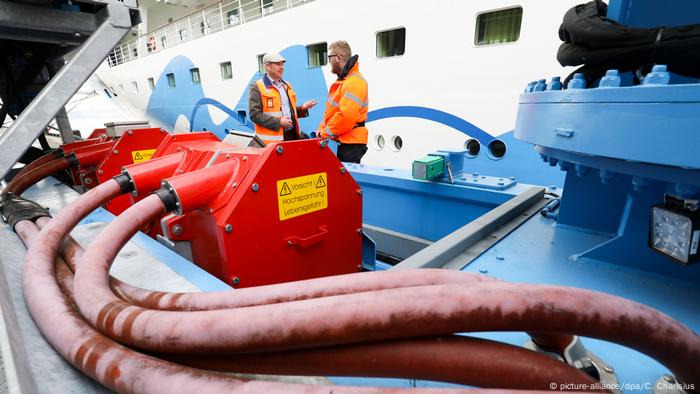 The shore-side power plant in Hamburg is considered a showcase project
Norway, together with Germany, is also a pioneer when it comes to shore power. A cruise ship spends almost half of the travel time in the port. There it switches from heavy oil to marine diesel. But even that one still contains 100 times more pollutants than car diesel. To curb air pollution, cities like Hamburg and Kristiansand (Norway) have built onshore power plants. Rostock-Warnemünde and Kiel are to follow in 2020. More and more cruise operators are also retrofitting their ships with shore power connections. This is an important step, says Daniel Rieger, because shore-side power plants not only reduce the ships' emissions of pollutants but also their CO2 emissions to zero while they are docked — provided the electricity comes from renewable energies. According to Rieger, what is still missing is enough infrastructure and mandatory regulations for shipping companies to actually use the more expensive shore power.
Emission-free cruise liners are (still) a long way off
LNG propulsion and shore power could thus temporarily improve the pollutant and CO2 balance of cruise shipping. In the long term, however, alternative forms of propulsion should play an even greater role. As in the automotive industry, the focus is on batteries and hydrogen fuel cells. AIDA plans to test lithium-ion batteries on one of its ships as early as 2020. One year later, fuel cells are to be used for the first time at AIDANova. The industry is thus taking its first steps towards an emission-free cruise. What could stand in the way of this goal is the construction of ever-larger ships with a correspondingly large appetite for energy, such as the Global Dream designed for 9,500 passengers. "It is questionable whether ships with up to 10,000 people on board can ever run exclusively on alternative propulsion systems," says Daniel Rieger.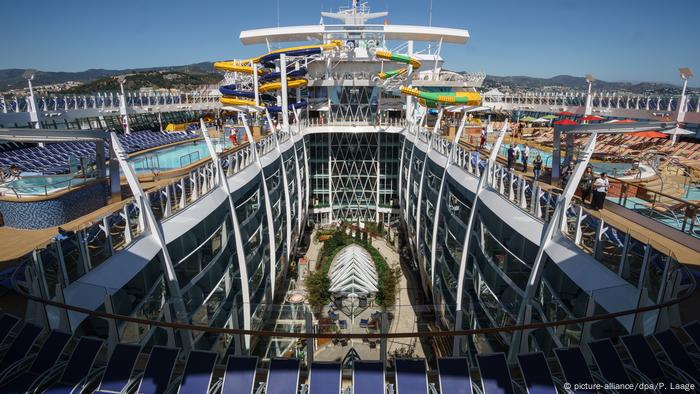 The Symphony of the Seas with a capacity of 6,870 passengers is currently the world's largest cruise ship
All this remains a dream of the future. For the majority of existing cruise ships, little will change for the time being. To operate cleaner, they would have to switch to the more expensive marine diesel, as Hapag Lloyd Cruises demonstrated. But for many cruise operators, as well as for merchant shipping, heavy fuel oil is still the much cheaper alternative. This could change though, with the lower sulfur limits of the International Maritime Organisation (IMO) coming into force in 2020. Heavy fuel oil could then become more expensive and give shipping companies a new incentive to switch to cleaner fuel.
Dialogue with port cities is necessary
The rapid growth of the cruise industry has not only led to increased environmental pollution. The number of tourists has also risen so rapidly that some port cities can hardly cope with the massive crowds.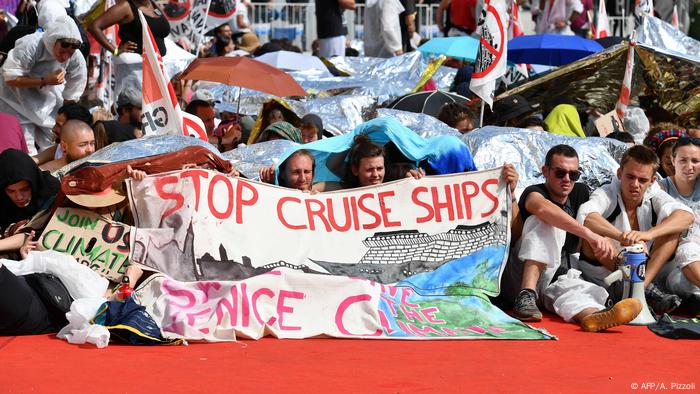 Venice: Protests against cruise ships sailing into the city's lagoon
Cities like Dubrovnik, Venice or Bergen have reacted to the continuing protests of their residents by limiting the number of permitted cruise ships. The industry has also understood that crowding holiday resorts can jeopardize its entire business model. "The cruise industry has a responsibility to the destinations, and the destinations are also responsible for sustainable tourism management," Hapag Lloyd Cruises told DW. In fact, a long-term solution will probably only be possible with deeper and sustained cooperation between shipping companies and port cities. The first initiatives have already been launched. Should this balancing act fail, however, even the cleanest fuel will not help the cruise industry.