Israeli Prime Minister Benjamin Netanyahu's 2016 visit to Kenya, Uganda, Ethiopia and Rwanda was historic, the first by an Israeli head of government to Africa in decades. And he had reason to fly home contented. "We believe that there is need for us as a continent once again to reengage Israel on a more positive basis," Kenyan President Uhuru Kenyatta told a press conference after the July 2016 talks.
Reception was just as friendly in the other nations Netanyahu visited in his landmark tour. Since then, Netanyahu has returned to the continent twice, including as a special guest at the Economic Community of West African States (ECOWAS) summit in June.
There have been ups and downs in Africa-Israel relations, says Steven Gruzd of the South African Institute of International Affairs, adding that at the moment, the curve seems to point upwards.
'There was an anti-colonial affinity'
In the 1950s and 1960s, the newly formed state of Israel had strong ties with African countries.
"There were lots of Israeli development workers, there were many African students studying in Israel and more than 30 embassies were established," Gruzd told DW.
"There was a kind of anti-colonial affinity because the Israelis had gotten rid of the British colonialization and Africa was doing the same."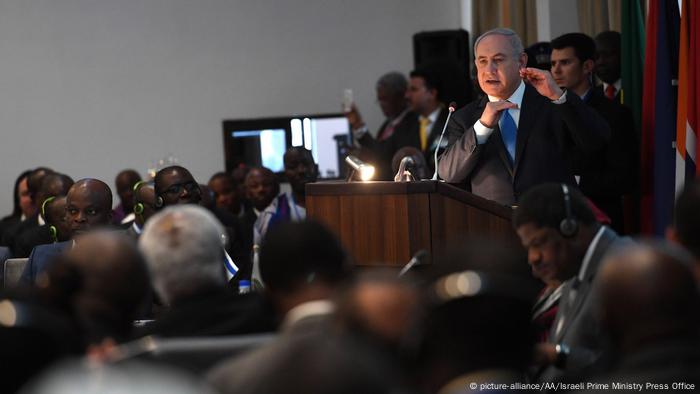 The Israeli prime minister was a special guest at the 51st ECOWAS summit
Israel's conflicts with its neighbors changed that. In the wake of the 1973 Yom Kippur War in which a coalition of Arab states launched a surprise attack on Israeli positions, the Israeli military moved far into Egyptian territory.
Egypt accused Israel of occupying African soil. The Arab states tried to persuade African states to break off relations with Israel, Gruzd says, adding that their efforts were successful.
Only four out of previously 30 African states maintained diplomatic ties with Israel. The Palestinian Authority was granted non-member observer status in the African Union (AU) – Israel was not.
Anti-Israeli sentiment lessens
However, reservations toward Israel appear to be waning. The AU has lacked a strong anti-Israel voice ever since the ouster of Libyan leader Muammar al-Gaddafi in 2011. There was little protest from Africa when US President Donald Trump recognized Jerusalem as the capital of Israel earlier this month.
"African politicians tend to be quite pragmatic and less concerned about ideologies than in previous years," Grudz says. "The support for the Palestinians is not as strong and as universal as it once has been."
Counter-terrorist moves
In fact, Israel has quite a lot to offer, including cooperation in the fight against terrorism. That is an aspect that goes down well in countries like Kenya, a target of extremist attacks.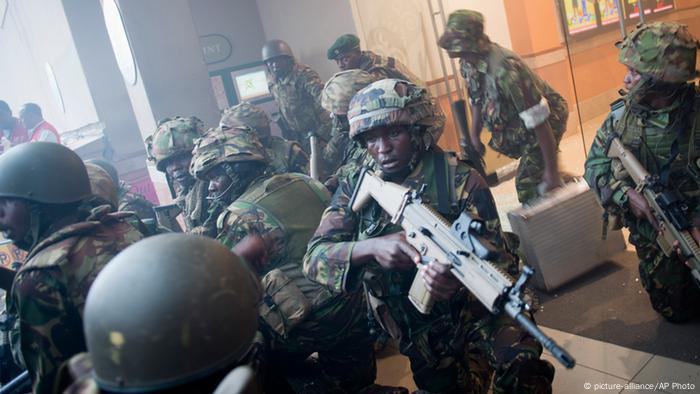 Israeli experts are believed to have advised Kenyan authorities on ending the terrorist siege at Nairobi's Westgate Mall in 2013
Media report that Israeli anti-terrorist forces advised Kenyan units in connection with the 2013 attack on the Westgate Mall in the capital, Nairobi.
Netanyahu offered support when he visited in 2016, pointing out that Israel was no stranger to terrorist attacks. "States must join forces against a 'new form of terrorism' that threatens all countries," he said.
Military cooperation and development aid
"Israel has always been ready to give military support, training," says Kenyan political expert Martin Oloo. Elite guards that protect VIPs in Africa are most likely Israeli-trained, he told DW, adding that there is a lot of "logistical, military and security support that Israel continues to give to Africa."

Development aid is also part of the mix. In early December, Israel began to participate in a US development program called Power Africa which aims at providing electricity to 60 million Africans by 2030.
Israel's cutting-edge technology is another selling point, for instance in the agriculture sector.
All the while, Israel has its own interests at heart.
More than once, Israeli Prime Minister Netanyahu has mentioned his country's interest in being granted observer status with the AU. Israel would also like to dissolve the "giant bloc of 54 African countries that is the basis of the automatic majority against Israel in the UN and other international organization," he told the Times of Israel ahead of his visit in June.
Israel's involvement with Africa isn't, however, a given. In particular Muslim majority states like Morocco, Senegal, Mauritania and Sudan are watching developments with a critical eye.
Israeli citizens are prohibited from entering Sudan. In response to an Israeli rocket attack on Gaza, Mauritania in 2010 broke off diplomatic relations with Israel. South Africa is wary as well: Israel was a close partner of the white apartheid government that ruled the country until 1994.