Those who pay a bit more for fair trade roses from Ethiopia or fair trade coffee from Uganda are also buying a promise: that the poorest of the poor, the harvesters, profit from that transaction. But a study by the School of Oriental and African Studies (SOAS) at the University of London says that this isn't the case.
The researchers traveled to Uganda and Ethiopia to observe labor conditions for seasonal workers in the flower, coffee and tea industries. "We carfully chose areas where established fair trade products are produced, and then compared them with areas without fair trade production," one of the study's co-authors, Bernd Müller, told DW.
Roughly 1,800 interviews were conducted over the course of four years. Workers were asked questions regarding their general work experience, as well as their current working conditions.
Conditions 'no better'
The result? Salaries for workers in fair trade regions were consistently lower than in other areas.
"It's important to emphasize that we're absolutely not drawing conclusions that fair trade actively contributes to worse working conditions, since other factors may partly be responsible for this," Müller said. "But what we can say with great certainty is that fair trade has failed to provide better conditions."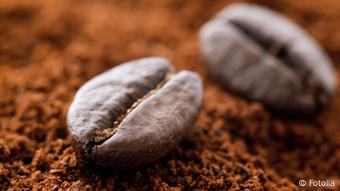 Only a fraction of global products are certified under the fair trade label. About 2.5 percent of the world's coffee is "Fairtrade".
The Transfair association, is the German fair trade labeling organization and a member of Fairtrade International. Transfair strongly objects to the report's key message: "Fair trade doesn't work".
There are many studies, says Transfair spokesperson Claudia Brück, which show that fair trade companies improve the working conditions and provide higher wages than their conventional counterparts.
She gives the example of a 2012 study by the Center for Evaluation (CEval) on the effects of fair trade on rural development in Africa, Asia and Latin America. The result was that small-scale fair trade farmers have slightly higher and more stable incomes than non-certified famers.
The Center for Evaluation's study did however not explicitly talk about the situation of contract workers - in this case, seasonal harvest workers. These workers benefit less from fair trade, admitted Claudia Brück.
In February, Fairtrade International however revised its standards for hired labor in order to accommodate these workers. They can now receive a part of the fair trade premium which would have otherwise been used in social projects, such as the construction of local schools.
A living wage
Fairtrade International is currently trying to turn its minimum wage standards for unskilled workers into a "living wage." It means that workers earn enough to cover their living expenses and put a little money aside.
"Each plantation has to show how they're going to raise the wages step by step over the coming years, until their workers really do earn a living wage," says Brück. The organization is currently carrying out studies to determine the categories for a living wage.
One other point which Transfair criticizes in the SOAS study is its comparison of the small-scale fair trade farming businesses with large-scale plantations. "Small-scale farmers have to fight for their survival. You cannot compare them with well-functioning plantations which are partly financed by foreign capital and then come to the conclusion, that fair trade doesn't work," argued Brück.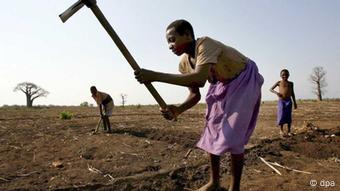 Small-scale farms make up 80 percent of African farmland (FAO 2012).
In many African countries, small-scale farms can be even smaller than a football pitch. It is therefore not surprising that these farmers pay their laborers less than the large plantations, said Brück. She added that many of the farmers cannot survive by selling fair trade products alone.
"It is true that we compared small and large business, both with and without fair trade certificates," admitted the report's author Bernd Müller. He however noted that the size of the business was taken into account when comparing the wages and working conditions. For some sections, only small-scale businesses were compared with each other.
Müller, who works for the UN Food and Agriculture Organization (FAO), thinks that the report's findings carry an important message for the fight against poverty. "It shows that the chance of receiving a fair wage and good working conditions is more likely in a larger business rather than on small-scale farmers and associations."
In contrast to this, Transfair chooses to focus on small-scale farmers, as they believe that these businesses provide the most sustainable form of agriculture.