According to the SITE Intelligence Group, which monitors jihadist websites, the "Islamic State" (IS) militant group killed the University of Rajshahi professor for promoting atheism.
English professor Rezaul Karim Siddique was attacked with machetes near his home in the city of Rajshahi, police said. Officers reported that up to three individuals rode up on a motorcycle and ambushed the 58-year-old early Saturday, hacking him to death.
Nahidul Islam, a deputy commissioner of police, told news agency AFP the attack resembled previous assaults by Islamist militants.
"The attack is similar to the ones carried out on (atheist) bloggers in the recent past," he said.
Siddique's brother said the professor was a "very quiet and simple man" who did not have enemies.
"We don't know why it happened to him," said Sajidul Karim Siddique.
Police said Siddique was the fourth professor from state-run Rajshahi University to have been murdered in recent years.
A spate of attacks
The South Asian country of 160 million has seen a surge in violent attacks on liberal activists over the past few years. In 2015, at least five secular bloggers and a publisher were murdered in alleged Islamist militant attacks.
Earlier this month, Bangladeshi law student Nazimuddin Samad was attacked with a machete and then shot in the head. Samad was known for criticizing Islamic fundamentalism on social media. In his last Facebook post before his death, he warned that public sentiment had been growing against the Bangladeshi government following the recent deaths of secular activists in the Muslim-majority country.
Rights group Amnesty International has condemned Siddique's killing in a statement issued on Saturday.
"The vicious killing of Rezaul Karim Siddique is inexcusable and those responsible must be held to account. This attack sadly fits the gruesome pattern established by Islamist extremist groups in Bangladesh who are targeting secular activists and writers," said Champa Patel, Amnesty International's South Asia director.
"The authorities must do more to put an end to these killings. Not a single person has been brought to justice for the attacks over the past year."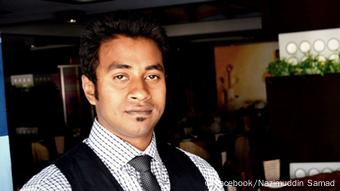 Bangladeshi law student Nazimuddin Samad was killed on April 7
Government inaction
In an interview with DW, activist Golam Rabby Chowdhury said the Bangladeshi government had not done much to stop the killings of bloggers and secular activists. "The attacks on humanist and secular writers and activists have been increasing in the country. Unfortunately, the government's inaction is emboldening Islamists to attack bloggers."
Siegfried O. Wolf, a researcher at the University of Heidelberg's South Asia Institute, told DW the Bangladeshi government lacked a proper strategy to deal with the threat posed by Islamic fundamentalists.
"At the moment, the government of Prime Minister Sheikh Hasina does not classify (at least publicly) the IS as a risk. It needs to come up with a clear and comprehensive assessment of the threat posed by the militant group and the way it is gaining strength in the country," O. Wolf said.