To call it a space race at this stage would be odd, not to mention misleading. What we're seeing now is more like a sprint, or a dash, where all the competitors are holding hands to the finish.
First, both the Europeans and Americans are keen on human spaceflight. And they know they can't do it alone - nations are pooling resources as much with each other as they are with commercial space enterprises. So much is clear. And as a result it will be a European Service Module that propels NASA's Orion spacecraft beyond the moon and back in 2018.
But there are further plans to build a second module for another mission, possibly in 2021, that will carry astronauts. If this happens, and no other mob trumps it, the mission will be the first to take humans beyond low orbit since 1972. The mission will be powered by European hardware. It will provide water, thermal control and atmosphere for a crew of up to four astronauts.
Next week, the European Space Agency and Airbus Defence and Space sign off on an agreement with NASA, and they will get things started.
The community, even in Europe, has embraced a public-private approach to space.
"Involving the commercial sector and their new fresh ideas, of course it's a good idea," says David Parker, ESA's head of Human Spaceflight and Robotic Exploration. "There are fantastic entrepreneurs out there who may provide a telecommunications service around the moon so that everybody can have the telecommunications for their lunar lander or their astronauts."
Modern launch pad
Then there's SpaceX, one of the commercial providers that has been delivering supplies to the International Space Station. It plans to inaugurate a revamped, fourth launch facility - a modified NASA launch complex in Florida known as "39A" - also next week.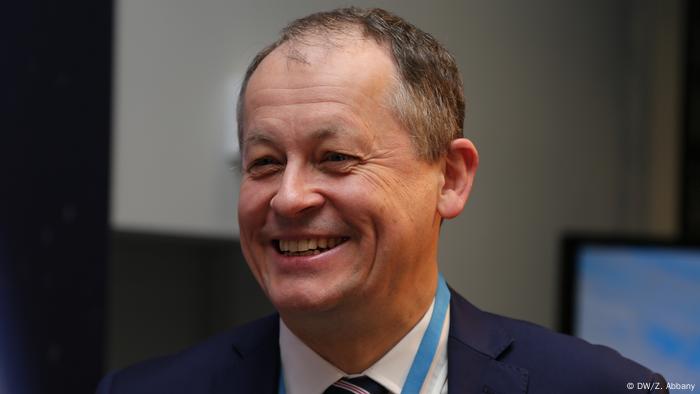 ESA's David Parker used to head the UK Space Agency. The UK has long focused on the commercial benefits of space
NASA's Space Shuttles launched from 39A (before they were grounded). They were the last of America's human space capability.
Activating 39A may well help SpaceX clear a current backlog of about 70 flights.
It's also another step in NASA's plans to have SpaceX and Airbus competitor, Boeing, ferry astronauts to the International Space Station by the end of 2017. The SpaceX rocket, Falcon 9, which carries a Dragon capsule, launches from 39A. Boeing has its CST-100 spacecraft.
All this commercial enterprise will, however, come at a cost.
"Of course it will be a commercial service, but bringing that kind of entrepreneurial spirit, I don't think it's a bad thing," says Parker.
For science and riches
Historically, says Parker, people have explored for various reasons. During the gold rushes of the Wild West and Australia, for instance, some will have gone for the riches and others for the pure exploration, the science.
But space is such an untapped resource, there's so much we don't know, what it is, how it "functions," or how much it's worth. So are we really prepared to let this rejuvenated age of entrepreneurial space exploration develop on a "wait-and-see" basis? Just look at the internet if you're wondering where that kind of attitude may lead us.
That said, skeptics like me may have to endure a few entrepreneurs earning bucket loads in the short-term, and hang on for the long-term benefits for the rest of humanity.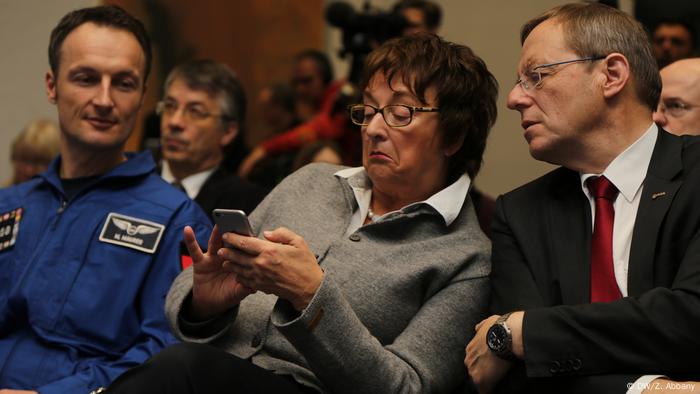 Economics Minister Brigitte Zypries shares a mobile moment with astronaut Matthias Maurer and ESA chief Jan Wörner
"When we understand the other 90 percent of the physics, imagine what relevance that might have to everyday life," says Parker. "Just as you rely on a mobile telephone today, you don't think about electromagnetic wave theory, do you? But fundamental physics is built into your phone."
Equal opportunities?
So finally what about our investment in people as we take this next step? We talk about "manned" missions to the moon. But does that include women? Germany's Economics Minister Brigitte Zypries, whose department is responsible for space activity, certainly hopes so.
"A lot of women are interested," says Zypries. "About 900 women applied through the initiative, "Die Astronautin [The astronauts]." They're working with ESA and we'll find out soon who's among the final 10 candidates. So, first, let's select one or two of them. But we also have to make sure women continue to be interested in technical professions, and we can only encourage them by saying, 'Get stuck in, you can do it.'"
David Parker can do little but agree. And he sees the number of opportunities for people getting to space, wherever or whatever they are, as commercial and public human spaceflight takes off.
"With the Americans building not one, not two, but three new space vehicles that will take astronauts into space, up to the space station, and also beyond as we look to heading back to the moon and onto Mars, the opportunities are going to increase," says Parker. "And there will be different ways for people to get up into space, maybe even commercially. The more people that experience going to space the better."