DW: Is it really true that this is the first German-made telecommunications satellite in 30 years?
Andreas Lindenthal: Yes, it is true, unfortunately! In the 1970s and 80s there was a strong push from German operators, like Deutsche Telekom, and the relevant ministries for research and technology, to develop the capabilities for launching, designing and producing telecommunications satellites. It was seen as a potential market for German industry. Then after the first satellites were launched - and the last was in the early 90s - the biggest industry group at the time (now known as Airbus) decided to share work on an international, European basis. That led to all systems responsibilities moving to France. And since then France has produced these telecommunications satellites for the global market, the European market and the German market.
I suppose that's how we have companies like Thales Alenia Space, in France, involved in some of Europe's earth observation satellites.
Yes. So Germany focused on contributing equipment. That was the deal more or less, that the French would take contributions from German companies like Tesat Spacecom and Jena Optronik. But there was a gap in systems responsibilities, and our late founder, Professor Manfred Fuchs, picked up on that more than ten years ago. He said systems responsibility was important for access to innovation and growing market.
Tell us about the SmallGEO platform of which your satellite is a part. What will it do?
It's a telecommunications satellite. Our satellites transmit television signals, internet data, telephony, anything that connects people.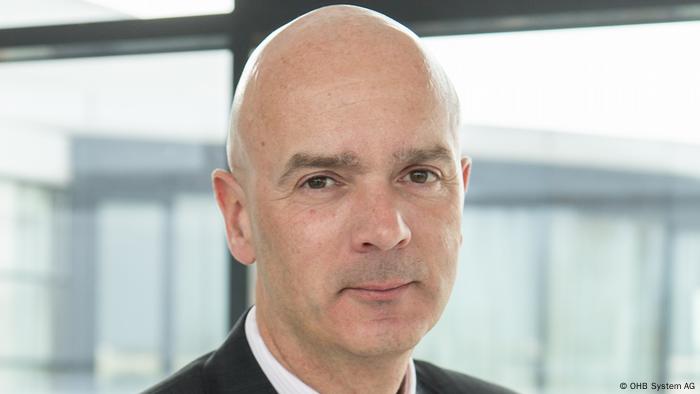 A nervous Andreas Lindenthal: "It all has to work perfectly in orbit for the next 15 years, and you only have one chance"
It doesn't make a big difference though if you're transmitting telephone calls or data for the internet or TV channels. The difference is in data rates and bandwidth. But you're putting a capacity in orbit, like a cable, which you route from one point of the planet to another to connect those points. And in our case that's from Europe to South America to allow traffic between those continents.
You would think that after all these years of our shooting satellites into space that there would be enough. But we continue to send satellites into space for all sorts of reasons. Given that our terrestrial communication networks are fairly solid, certainly with 5G coming, how might a satellite like yours become part of an interplanetary communications network? In the US, people are working on this. So do you also think that far down the line?
Absolutely. Satellites provide the most flexible and fastest way for establishing an infrastructure, compared to putting cables in the ground. You can reach every corner of the planet with satellites. And the most reasonable way to use satellites is to combine them with terrestrial systems, especially in areas that are less well connected, like arctic areas or cruise ships out at sea. And when we go to other planets, this telecommunications knowledge, the know-how [we get from our systems on Earth], is essential for making those new programs a success.
So when you mention other planets, you mean if we were to go to Mars or return to the moon, and we need also to communicate between the International Space Station and other points?
Yes, exactly.
We're seeing a greater drive towards public-private partnerships here now. Can Europe compete with American private enterprise, having largely been out of the game for so long?
In terms of space and satellite technology: a clear "yes." We are very competitive whether it's satellite systems and equipment, or conducting missions. That's for sure. And these private initiatives in the US, they also use European technology. So in terms of global competition, European industry plays a significant role.
It's a bit different, though, when we talk about establishing European private initiatives, like spending billions or many millions, for purely private initiatives in the space area. Europe - you know, the "old world" - tends to have regulations for everything.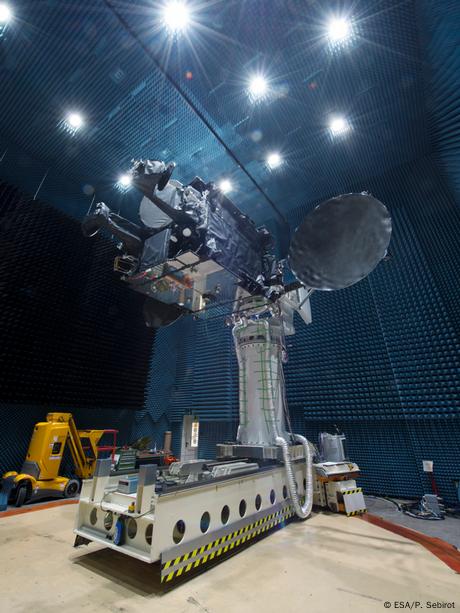 SmallGEO: This small European geostationary platform for communications takes OHB into the big league
But that's just it. The idea of venture capital for space in Europe is just not there. People don't see a future in it…
Exactly. The mindset is not there and the money is not there either, certainly not if you consider the billions in Silicon Valley. [Silicon Valley] is a unique environment, and on top of that, these guys are discovering space as a future market, as an area of innovation. That's why they're pushing lots of money into it.
In Europe, people are more cautious. There aren't as many billionaires who are interested in space, unfortunately. Some big companies are doing it, but it's much less than in the US, and that's why there's this impression that all the new ideas are only ever invented in the US. But it's not true.
It's also to do with the culture in the US, where people are used to spending money on initiatives, knowing that most of them will probably die. But they know a few may survive, and that makes it worth sticking with them as they may become profitable in the future.
Well we'll see whether that culture continues in the US with President Trump at the helm. But for now, good luck for the launch.
Thanks. We're getting more and more nervous.
Why? Surely all the preparations are done now.
Yes, but one of the specifics of space is that you never get the thing back. It all has to work perfectly in orbit for the next 15 years, and you only have one chance. So while we test things extensively on the ground before a launch, there's always an element of uncertainty and risk with new technology. The failure rate for satellites is pretty low. With Soyuz rockets [as the launcher], it's around one or two percent failure. But it is still one or two percent! So there's a risk and a decade's worth of work could be destroyed within a second if you fall within those damned one or two percent and not in the other 98! Even people who've seen 20 or 30 launches, they still get nervous.
Andreas Lindenthal is the chief operating officer and member of the managing board at OHB System AG in Bremen. OHB developed and built Europe's SmallGEO telecommunications platform.