Berlin, 1931. Eighteen-year-old Doris has dreams of becoming a star.
"I want to become a star. I want to be at the top. With a white car and bubble bath that smells of perfume, and everything just like in Paris. And people have a great deal of respect for me because I'm glamorous."
A secretary in Cologne, Doris has already grown bored with her impoverished life, with her unemployed, alcoholic father and well-intentioned but exhausted "Hausfrau" mother. Dreaming of escaping to Berlin, Doris puts her boss in a compromising position, blackmailing him into a severance package that will pay her way to the big city, where she can be a "Glanz" — a star. After stealing a fur coat from her evening job in a theater cloakroom, young Doris leaves town with nothing but the clothes on her back and her wits to rely on.
Weimar-era Berlin is a lively, tumultuous place — an atmospheric setting difficult to capture in words. Yet The Artificial Silk Girl does just that with its snappy prose and Doris' quick-witted observances.
"So I arrived at Friedrichsstrasse Station, where there's an incredible hustle-and-bustle. And I found out that some Frenchmen had arrived just before I did and Berlin's masses were there to greet them. They're called Laval and Briand — and being a woman who frequently spends time waiting in restaurants, I've seen their picture in magazines. I was swept along Friedrichstrasse in a crowd of people, which was full of life and colorful and somehow had a checkered feeling. There was so much excitement! So I immediately realized that this was an exception, because even the nerves of an enormous city like Berlin can't stand such incredible tension every day.But I was swooming and continued to be swept along — the air was full of excitement."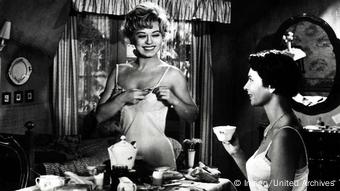 Doris was brought to life on the big screen in 1959
In unflinching descriptions of the cabaret city, the pre-war mood sets the tone of the book. The night-life activities in trendy clubs are relayed by Doris in the jargon of Berlin's demi-monde. Seemingly anything goes in this city experiencing unrelenting poverty. And as Doris herself knows, there is a darkness such poverty drives people to.
As readers in the 21st century, in retrospect, we know what's to come. Doris' adventures in the city, her foray into prostitution and nights spent at cabarets and couch-surfing episodes through friends' apartments take on a sense of foreboding as we anticipate that soon Hitler will come to power and the Nazis will march into town, bringing the riotous era to an end.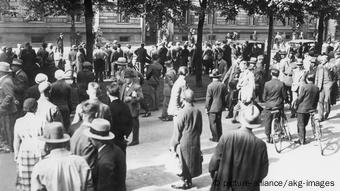 Doris claims to know little of politics and yet finds herself in the midst of public gatherings, like this one on Unter den Linden
Whether out of youthful naivety, boundless optimism or simply because she has no choice, Doris is quite pleased with her life as a petty thief and escort. "I overwhelm even myself," she says, after using her body as a stage for a small, fat businessman to act out his fantasies on while spending a few days in his luxurious apartment. Kicked out when his wife returns and he is arrested, Doris still manages to get her hands on a crocodile purse and a pair of silk shoes in return for her erotic services. And though the sense of foreboding is an undercurrent throughout the book, the protagonist doesn't allow the politics of the day to overshadow her own dreams, even as they evaporate in front of her eyes.

Irmgard Keun: The Artificial Silk Girl, Other Press, (German title: Das kunstseidene Mädchen, 1932). English translation: Katharina von Ankum.
Irmgard Keun must have felt that same sense of foreboding that her character Doris felt. The Berlin-born writer, who came of age in Cologne, achieved fame quickly after publishing her debut Gilgi, eine von uns (Gilgi, One of Us) in 1931. The Artificial Silk Girl followed within a year and won over readers immediately; the book sold nearly 50,000 copies before the Nazis came to power in 1933.
Keun was shortly thereafter added to a black list of writers and no longer able to publish under her own name. The Artificial Silk Girl soon went out of print and, by 1936, Keun herself had fled Germany for neighboring Belgium. Although she lived in exile and continued to publish in the Netherlands pseudonymously, after the Nazis occupied the Netherlands, Keun faked her own death and slipped back into Germany for the remainder of the war. Little is known about the writer's wartime experiences; she died in Cologne in 1982.