"Iran has presented constructive solutions to overcome the remaining differences," an unidentified Iranian diplomat told Iranian news agency ISNA on Wednesday.
However, the country would "not show flexibility" regarding its "red lines," the official added.
Details of the proposal were not immediately clear, but apart from two or three issues, the agreement was almost complete, Iran's deputy foreign minister, Abbas Aragchi, told journalists. Western diplomats told the Reuters news agency they had not yet seen new proposals from Iran.
Iran's foreign minister, Javad Zarif, and his counterparts from the P5+1 countries - France, China, Russia, United Kingdom, United States and Germany - have been involved in lengthy talks to finalize an agreement that will put an end to a decade-long standoff.
Discussions to continue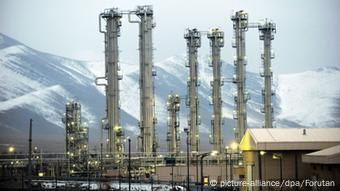 Altering the heavy water-producing nuclear reactor in Arak is a key point in the nuclear deal
Negotiators extended a June 30 deadline to July 7, and have effectively extended the deadline again until Friday. However, comments from the Iranian and American camps suggest they are not adhering to a fixed deadline and that negotiations will continue until they succeed or fail.
US Secretary of State John Kerry and Zarif remained in Vienna to sort out the deadlock, while foreign ministers of the other countries were set to leave Vienna on Wednesday, Reuters reported. EU foreign policy head Federica Mogherini, who was coordinating the talks, was also expected to stay back to facilitate a resolution.
The pushback from Iran stems from the country's desire to continue nuclear activity – including research and development on nuclear centrifuges – for what it says are peaceful aims. Western countries want assurances that Iran will not pursue a nuclear weapon and that international monitors will be allowed to carry out inspections of Tehran's nuclear and military facilities for verification purposes. In addition, the P5+1 wants to limit Iran's nuclear research and development, which Tehran says would inhibit its ability for peaceful nuclear activity. A further sticking point is an arms embargo imposed by the United Nations.
The subsequent impasse has led to economic sanctions by US and European Union countries, crippling Tehran's economy and impoverishing its people. A timeline for lifting the sanctions should an agreement be reached is part of the ongoing negotiations.
mg/kms (Reuters, AFP, dpa)