Iranian authorities announced on Tuesday that they had located the wreckage of a passenger plane that crashed in a remote mountain area with 65 people on board.
The Aseman Airlines flight disappeared from radar on Sunday 50 minutes into its journey from Tehran to the southwestern city of Yasuj.
Read more: Plane crashes in Iran's Zagros Mountains with 65 on board
Revolutionary Guards spokesman Ramezan Sharif said the crash site was first spotted by a military drone.
"Two helicopters were sent to the coordinates that the drone had located, and found the wreckage," he told state television.
All 59 passengers and six crew members are presumed dead.
Search crews are trying to recover the aircraft's black boxes. The equipment records cockpit conversations and radio transmissions, as well as other data from the flight.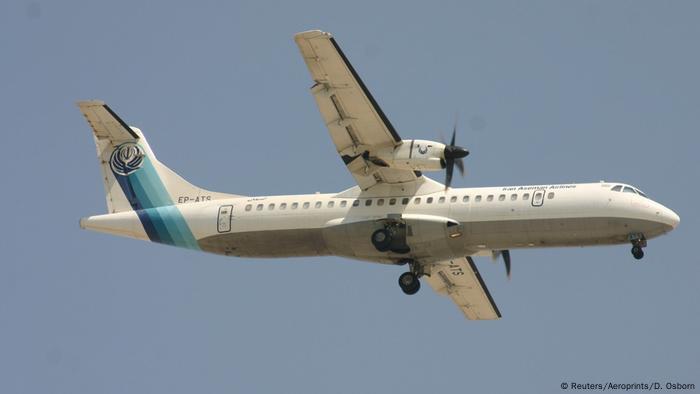 The ATR-72 turboprop plane was 24-years-old.
Families waiting for bodies
The plane crashed more than 4,000 metres (13,000 feet) up a mountain. Bad weather and treacherous terrain has hampered search and rescue efforts.
"Deep and dangerous crevices in the area of the crash have made it impossible for helicopters to land," Ghafoor Rastinrooz, director of the regional medical center, told official news agency IRNA.
"The bodies must be transferred by hand to the foot of the mountain, which will be time-consuming," he said.
Family members were grief-stricken and angry due to the long wait to locate the plane.
More than 100 people reportedly demonstrated outside a local government office in Dena Kooh on Monday. They were demanding that officials step down for their handling of the disaster.
Iran has suffered several plane crashes in the past few decades and has blamed U.S. sanctions for preventing it from importing new aircraft or spare parts.
Read more: Iran plans to buy aircraft from France to build up ageing fleet
Aseman Airlines is a semi-private air carrier headquartered in Tehran specializing in flights to remote airfields across the country. It also flies internationally, but has been banned in the European Union over safety concerns.
The aircraft was a 24-year-old twin-engine turboprop ATR 72, which the airline said had been "grounded" for seven years and recently became operational again.
DW's editors send out a selection of the day's hard news and quality feature journalism. You can sign up to receive it directly here.
jcg/rt (AFP, dpa)