Following years in isolation, Iran has reentered the international stage - which for some is cause for alarm. Tehran is now engaging in dialogue and has agreed to curb its nuclear program. But it is also involved in wars in Syria and Yemen - running the risk of upsetting the sensibilities of old enemies such as Israel, Saudi Arabia and the US. Donald Trump has now ditched the Iran nuclear deal.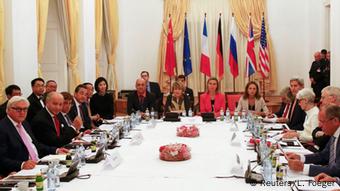 July 14, 2015 saw the signing of a historic agreement in Vienna that restricted Iran's nuclear program. For the first time since the foundation of the Islamic Republic in 1979 and following years of tension and crises, the deal marked a major thaw in relations between Tehran and the international community.
In May 2018, however, US President Donald Trump announced he would be withdrawing from the deal unilaterally - even though co-signatories Russia, China and the EU remain committed to the agreement. The consequences for the Iranian economy, international trade relations and the balance of power in the Middle East remains as yet unclear. Filmed in Iran, in Saudi Arabia and the US, this documentary hears from government representatives and experts in those countries and explains why and how Tehran has continuously consolidated its military and political influence.
Does Iran have expansionist ambitions - not just military, but also political and economic? Or is it merely seeking to secure its borders and autonomy, and ward off the crises that are destabilizing the Middle East? The report seeks to unravel the complexities of the conflicts in the region and explain the resurgence of Islamism. Branded part of an "axis of evil" by George W. Bush in 2002, Iran has since become a key player in the Middle East. The country now plays a vital role in the fight to defeat the so-called Islamic State. The documentary looks at the factors behind Tehran's strategy for increasing its military and political influence in the Middle East.

Broadcating Hours:
DW English
SUN 05.08.2018 – 19:15 UTC
MON 06.08.2018 – 01:15 UTC
MON 06.08.2018 – 15:15 UTC
WED 08.08.2018 – 05:15 UTC
THU 16.08.2018 – 03:15 UTC
SUN 19.08.2018 – 09:15 UTC
Cape Town UTC +2 | Delhi UTC +5,5 | Hong Kong UTC +8
San Francisco UTC -7 | Edmonton UTC -6 | New York UTC -4
Lagos UTC +1 | Cape Town UTC +2 | Nairobi UTC +3
London UTC +1 | Berlin UTC +2 | Moscow UTC +3
DW Deutsch+
MON 06.08.2018 – 09:15 UTC
Vancouver UTC -7 | New York UTC -4 | Sao Paulo UTC -3