Five Iranian cargo planes arrived in Doha on Sunday with food supplies as sanctions placed by the neighboring Gulf states have started to hurt Qatar.
"So far five planes carrying ... vegetables have been sent to Qatar, each carrying around 90 tones of cargo, while another plane will be sent today," Iran Air spokesman Shahrokh Noushabadi said.
"We will continue deliveries as long as there is demand" from Qatar, Noushabadi added.
It is unclear whether these deliveries are exports or aid.
The Iranian Tasnim news agency quoted a government official as saying that three ships loaded with 350 tones of food items were also set to leave for Qatar.
Qatar, a tiny nation of 2.5 million people, was importing 80 percent of its food requirements from bigger Gulf Arab neighbors before the diplomatic standoff.
Read: German foreign minister accuses US of stirring up Middle East conflict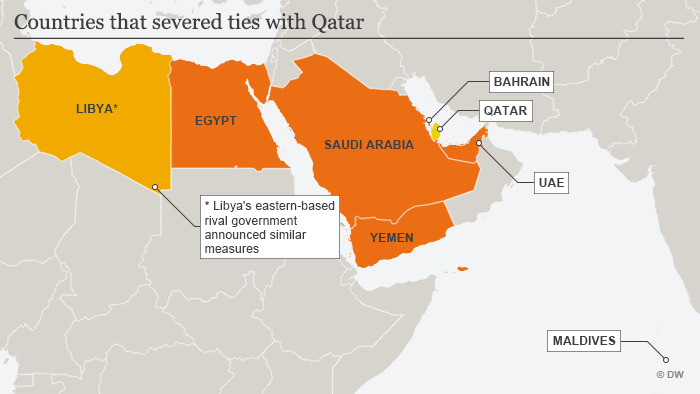 Biggest diplomatic crisis in year
Saudi Arabia, Bahrain, the United Arab Emirates, Egypt and Yemen severed their ties with Qatar on Monday, accusing the Gulf country of supporting extremism, a charge Doha denies.
Read: 'Iran cannot portray itself as victim of terrorism'
Riyadh is also skeptical of Doha's friendly ties with Iran, whom it considers a regional rival. Iran and Saudi Arabia are locked in multiple geopolitical conflicts in the region, with both supporting rival factions in protracted Syrian and Yemeni wars.
The Arab countries have blocked their air, land and sea routes with Qatar, which is affecting its air traffic and imports. To ease stress on Qatar, Iran opened its airspace to about 100 more Qatari flights, which has increased Iranian air traffic by 17 percent.
The Iranian government has urged Qatar and neighboring Gulf countries to engage in dialogue to resolve their dispute.
The US and the European Union countries have also advised restrain and a resolution of conflict through negotiations.
Read: Turkey urges Gulf states to end Qatar crisis before end of Ramadan
shs/jlw (AP, AFP, Reuters)