In this land of sophisticated motoring and unrestricted freeway speed limits, home to the likes of Mercedes, Volkswagen, BMW et al., every seventh job is in some way related to the automobile industry. As such, it invests more in research and development than any other branch in Germany.
The development race is a moveable feast, an ongoing process of honing and fine-tuning the already state-of-the-art. As fashions shift, so too do motorized visions. The latest comes in the form of a zero-emissions hydrogen-fuelled model, which -- although still in its infant stages of development -- has already generated a climate of intense competition among the big name manufacturers.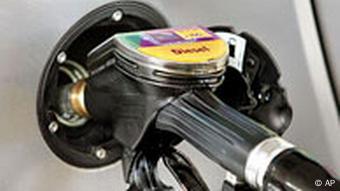 Filling up on a tank load of diesel
Until the motor of the future is ready to hit the road (and that is not expected for at least another 15 years), the search for alternative sources of fuel will continue.
"We spend between 30 and 35 percent of our overall budget on engine technology and fuel," said Volkswagen Head of Research, Franz-Josef Paefgen. "We had a look at exactly what we could do with existing technology and our development findings, and realized that over the next few years, Europe could replace half its fuel consumption with alternative fuel sources."
Long haul
There is no doubt, however, that it will take a long time to get away from oil altogether. There is no single great way to cleaner cars, but a whole host of possibilities which range from the hybrid combustion-electric engine to a mixture of bio fuels.
Bernd Gottschalk, President of the Association of the German Automobile Industry, said they have recognized that so-called "designer fuels," with biomass or cellulose components, are ideal for future generations of engines.
"They are steps towards reducing CO2 by 90 percent, which would be a win-win situation for everyone," Gottschalk said.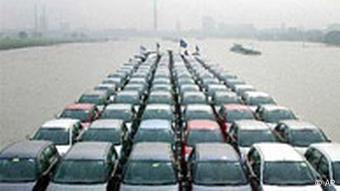 New cars wait in line
There is not, however, much use in equipping cars with futuristic engines if there are no gas stations for filling up the tank. In that regard, Germany lags miles behind the likes of Sweden, which with its 300 gas-ethanol stations has made Ford's flexi-fuel technology the order of the day.
As it stands, Germany has but one such filling station in the whole country, and although that is clearly not enough, Bernhard Mattes, Head of Ford Germany, said it is a step in the right direction.
"At Ford, we invest heavily in research and development because we believe that sustainable mobility can only work if we develop alternative engines, and continue research into driving dynamics and automobile security," he said.
The broader picture
But finding a balance between making motoring safer for the environment and those on the roads is a tricky business. Thomas Weber, a DaimlerChrysler board member and head of development at the Mercedes Car Group said environmentally friendly engines and crash structures both make cars heavier.
"We know that an additional 20 kilos increases fuel consumption by one percent, so we have to ensure that however innovative the technology, the cars are not too heavy," Weber said. "If we are clever, we will find a solution to benefit both the environment and the customer."
The race is definitely on. With the number of cars on the roads expected to double in the next 15 years, manufacturers are not only working against each other, but against the clock to come up with sustainable solutions for generations to come.