On September 1, in Cambodia's western Battambang province, 41-year-old cassava farmer Chen Komsan was going about his normal routine - manoeuvring his blue Ford tractor over land he had been cultivating for seven years - when he drove over an old, anti-tank mine.
The fatal afternoon encounter triggered a powerful explosion, and Chen, a father and husband, suffered major leg injuries before bleeding to death on the way to the hospital, according to local media.
This is not an isolated incident in the Southeast Asian nation. Cambodia is one of the most heavily mined countries, from decades-long civil conflict and bombs dropped by the United States in the 1960s and 1970s. Since 1979, more than 64,000 people have been injured or killed from mines and explosive war remnants. During the first half of 2016, 59 people were killed or injured, according to the Cambodian Mine Action and Victim Assistance Authority (CMAA).
However, the country has made significant progress in combating the issue. Through coordination of the government, non-profits and donors, about five million mines and other unexploded ordnance have been found and destroyed since 1992, according to Cambodian Mine Action Centre (CMAC), the country's leading demining institution.
In 2014, the country cleared 54 square kilometres - 27 percent of the total worldwide clearance - and destroyed more than 20,000 antipersonnel mines, according to the Landmine Monitor 2015 report.
A testing ground
Recognized for its wealth of long-term experience, Cambodia has also become a primary testing ground for cutting-edge approaches. One such effort, led by Belgian social enterprise APOPO, uses rats to detect TNT.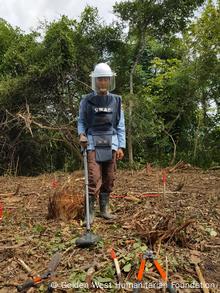 A deminer from the Cambodian Mine Action Center does the dangerous work of uncovering the country's hidden explosives
The African giant pouched rats can sniff out the explosives and are light enough to avoid setting them off. In June, these "hero" rats successfully helped clear a minefield for the first time in Cambodia.
The Golden West Humanitarian Foundation, a US-based NGO, has also pioneered several initiatives. Since 2013, the organization, in partnership with CMAC, has successfully trained divers to identify, recover and detonate underwater bombs scattered throughout the country's waterways.
Over the last decade, it has also introduced the Explosive Harvesting System, an advanced explosives supply system that turns old bombs and other dangerous explosive ordnance into tools to destroy landmines, according to the director of applied technology, Allen Dodgson Tan.
The approach saves on manufacturing and transportation costs of explosives while reducing the dangers of stockpiling. "The products made by this program are used to destroy landmines every day in Cambodia by [non-government organizations]," he said.
Forging the future
Most recently, Canada-based startup the Landmine Boys is developing a ground-breaking approach to landmine clearance, using robotic devices that safely remove and defuse mines without human intervention, and testing the prototypes in Cambodia. "We don't want to do incremental improvements," said CEO Richard Yim, while visiting Cambodia in early September. "We want a game changer."
Controlled explosions are the most common approach used to neutralize landmines. But this can destroy the land and make further mine detection in the area challenging, according to Yim. The Landmine Boys' machine is one of few available tools able to defuse mines without exploding them - keeping the detonator from exploding, and containing the TNT. At 36 centimeters high, the "defusal" machine, operated by remote control or run autonomously, slices open landmines to melt the explosive matter in 15 seconds.
The company's second device, an excavation machine, would eliminate the need for the treacherous human labor involved in unearthing landmines. It would be the first portable small-scale solution to dig individual landmines out of the ground.
In Cambodia, 11 percent of casualties have been aged less than 18 years old, according to CMAA. "I could have been one of those kids," said Yim. The 22-year old entrepreneur was born and raised in Cambodia before migrating to Canada at 13.
Growing up, landmines were a common dinner table topic. When Yim was 8, his aunt was killed by a landmine. Upon seeing the drastic difference in Canada - where his peers could explore off the beaten track without fear of explosions - he resolved to make a difference. "The freedom to go anywhere, do anything, I want to give kids that freedom in the next generation." After studying mechanical engineering, he launched his company with two others, and has since won many innovation awards.
"What we will see in the future are more automated technologies that can take humans out of the most dangerous parts of demining," said Tan. "The Landmine Boys are taking this approach, and I think we need young, ambitious engineers to continue to look at these issues." While CMAC's Chief of Secretariat, Phat Phearak, voiced uncertainty on how the devices would be used, he added, "We welcome all technology and methodologies."
Challenges
The company estimates releasing one or both of its machines by January 2018. It is finalizing patents and will do further testing in Cambodia in December. Eventually, it will blend the two functions into one machine that can also detect landmines, and is exploring methods to retain and recycle the explosive material. "It's an aggressive goal," said Yim. "But we need to put aggressive goals if we want to save lives."
Yet major challenges remain, including balancing the need for innovation, which is often highly priced - particularly compared to local labor costs - and the need for affordable and sustainable solutions for non-profit organizations. The Landmine Boys' "defusal" machine will cost about $50,000 and the excavator will be $40,000 or less, based on current specifications.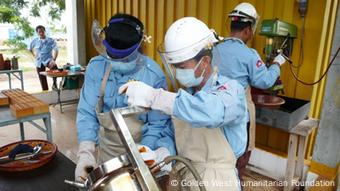 Employees prepare explosive mixtures for casting from recovered explosive ordnance as part of Golden West Humanitarian Foundation's Explosive Harvesting System
"It is always a challenge to keep things affordable," said Tan. "Solutions for the humanitarian market need to be both robust and relatively inexpensive." To address this, Golden West has partnered with top-ranking universities to access expertise at little-to-no cost. CMAC believes, however, that investments in technology can pay off, citing that productivity can increase 10-fold with the right machinery.
But one of the government's main challenges is funding. As the country develops, donors have been cutting back. "Funding here is related to economic growth," said CMAC's Phat. There is also a need to recruit and train new cohorts of deminers, as many are former soldiers nearing retirement age, with nobody to replace them, he added.
In the meantime, about 2,000 square kilometers of land remain mine-ridden, according to CMAC. And given the problem's reach and toll, groups feel a sense of urgency. "I don't know which of these people are not going to make it to next year," said Yim, of those he has met in heavily mined areas. "That's what keeps me up at night. I don't think we're working as fast as we could."