Hell ("Light") lives in Berlin. She doesn't pay rent in the dilapidated, empty building in which she lives. Or nearly empty, as she does have one neighbor: Dunkel ("Dark"), who lives across from her. But then Dunkel suddenly disappears.
It's the period after the fall of communism, the 1990s, in which wild Berlin has yet to merge its former two parts. It proclaims itself to be an "open city." Hell is an orphan and has learned to defend herself with kung fu. After all, she is neurotic and doesn't trust anyone. She lives largely secluded from the outside world.
Her sharp, overly precise sense of perception both helps and inhibits her. She notices every nuance, every minor detail as she makes her way through the once divided city, through the district in which she lives, or even just through her own stairwell.
The meticulous thought processes and word creations in Hell's inner monologues — such as when she describes the floor in her neighbor's hallway at the beginning of the novel — are provocatively supercharged and therefore fascinating:
"The paint is hideous. Emitting a matt sheen and almost impossible to remove, it resembles the excrement the German Shepherds deposit on the pavements here, fed on rust-colored lumps of pre-processed food."
Between ruin and reconstruction
Inka Parei lets the readers participate in the observations of her protagonist in a cool and factual way. Through her eyes, one becomes acquainted with the Berlin of the 90s in its transitional phase between ruin and reconstruction: its squatter scene, the neglect in abandoned spaces, battles with the police and, above all, endlessly long walks and suburban train rides through greater Berlin in search of her neighbor, Dunkel. Hell eventually encounters Markus März. He, too, is in search of Dunkel. The fact that he has just robbed a bank and is carrying the loot around in a backpack doesn't make things any easier.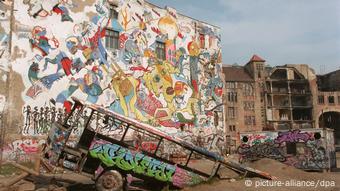 The art project and center "Tacheles" in Berlin's Oranienburger Strasse
Little by little, the author offers the reader a few hints about what Hell is all about: the fact that she was raped, that she picked apples with her father when she was a child, and that she now has no money. Through the relationship with Markus März and in the search for Dunkel, Hell is increasingly confronted with her own past, with the "bright" and the "dark" phases. The periods of time in the novel overlap. It requires concentration while reading to not get lost in all of the references.
A jungle of symbols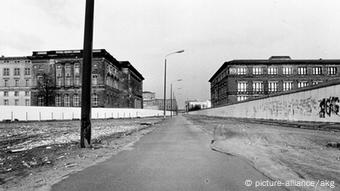 United and still divided: West and East, Berlin's Kreuzberg and Mitte districts in February 1990
This mixture of past, present and future seems like a metaphor for Berlin in the 1990s. Hell describes this state of transition while observing a suburban train station.
"I was caught in a jungle of symbols and labels, all their meanings premature or outdated. They referred to parts of the building that no longer exist, like the obtrusively jagged and yet squashed-looking letters of the Intershop that used to sell Western products for hard currency. Or to parts that aren't there yet, like the sticker for a lift that led me to an open shaft blocked off by a make-shift barrier of red-and-white striped construction site tape. After a long misdirected search I left the station, ground down by incompatible types of tiling, floor surfaces and escalators."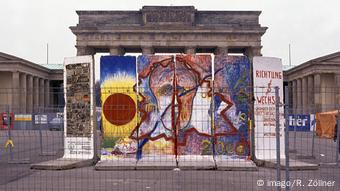 Brandenburg Gate, 1990
In the end, Inka Parei assembles the puzzle pieces of this short, densely-narrated novel, although not entirely. She leaves some parts to the way-side as the detective story marches onward. But that doesn't matter because the pull of the story draws you into that period in a city that didn't yet know in which direction it was supposed to go. With her debut, Inka Parei wrote a crime novel about the city — and a fascinating testimony to Berlin's post-reunification period.
Inka Parei: The Shadow-Boxing Woman, Seagull, (German title: Die Schattenboxerin, 1999). English translation: Katy Derbyshire.
Inka Parei was born in Frankfurt in 1967 and has lived in Berlin since 1987. In 2000, she was awarded the Hans Erich Nossack Prize for her first novel, The Shadow-Boxing Woman, which was published in 1999. She was awarded the Ingeborg Bachmann Prize for Was Dunkelheit war in 2003. The contrasts "light" and "dark" played a role in that novel as well. The Shadow-Boxing Woman has been translated into 13 languages. The author published her last novel, Kältezentrale, in 2011.