Chandrayaan-1 launched from the Satish Dhawan Space Center in Sriharikota on India's south-eastern coast on Wednesday, Oct. 22, at 6:22 a.m. local Indian time.
No doubt, German scientists at the Max Planck Institute for Solar System Research in Katlenburg-Lindau were watching with interest.
That's because an infrared spectrometer designed and built by the institute is on board for what is India's most ambitious space venture to date -- an unmanned mission to the moon.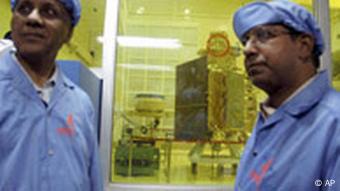 India is competing with China and Japan in an Asian space race
Indian scientists believe there is still much to be learned about the moon. The Chandrayaan mission aims to create a three-dimensional atlas of Earth's stellar neighbor, locate and confirm the presence of water, and study the lunar soil's chemical and mineral composition.
This is where the SIR-2 infrared spectrometer developed by a group headed by Urs Mall at the Max Planck Institute, comes into play.
"At the moment, this mission offers use the only opportunity to actively be part of lunar research," Mall said in an interview with the daily Berliner Zeitung.
The SIR-2 works by using the optical properties of mineral components in lunar soil. From the data collected, the researchers hope to gain insight into the early history of the moon and, by extension, the Earth.
The development of SIR-2 was made possible by funding from the Max Planck Society and the European Space Agency (ESA) and reflects the Society's growing relationship with India.
A total of 11 scientific instruments are part of the Chandrayaan mission. Five were built in India; the others were supplied by NASA, ESA, and Bulgaria.
Asian space race
In the current Asian space race, India has been competing with countries such as China and Japan to develop its rocket and satellite technology. More than a dozen Indian satellites currently orbit Earth, but this will be the first time the country has sent a spacecraft beyond Earth's atmosphere.
If successful, India will beat its competitors, at least in terms of cost. The Chandrayaan mission costs $80 million compared to China's $187 million lunar probe launched last year, and Japan's $480 million Kayuga mission.