The ban was issued on Friday by authorities in the southern state of Tamil Nadu, where Greenpeace is registered.
The environmental campaign group's license to operate was canceled and it was given 30 days to close down.
Authorities accused the organization of violating local laws by engaging in financial fraud and falsifying data.
A Greenpeace spokesman denied any wrongdoing, instead blaming an ongoing battle with Indian authorities over the past year that has seen the nongovernmental organization's (NGO) bank accounts frozen. The group plans to challenge the decision in court.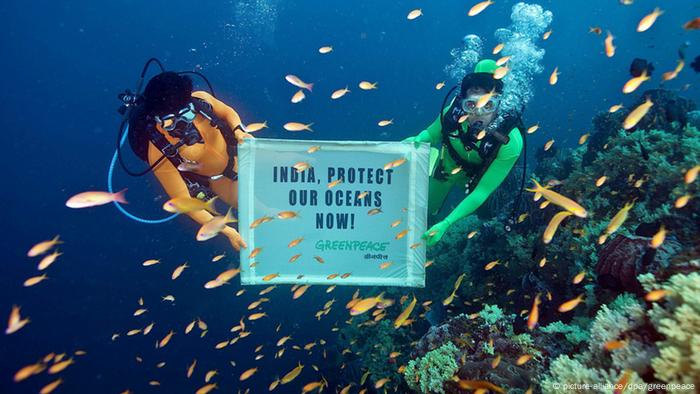 Environmental campaigners have called on the government to protect waters around India
"This is an extension of the deep intolerance for differing viewpoints that sections of this government seem to harbor," Vinuta Gopal, the interim executive director of Greenpeace, said in a statement.
He accused the Tamil Nadu government of "clearly acting under directions from the Ministry of Home Affairs in Delhi, which has been trying to shut Greenpeace India down for over a year now."
Environmental fallout
Greenpeace has been at loggerheads with Prime Minister Narendra Modi's government over the environmental impact of India's heavy reliance on coal for energy and the impact of deforestation. It has also campaigned against the expansion of genetically modified crops, nuclear power and toxic waste management.
In April, Greenpeace India's foreign-funding license was suspended for six months as officials accused the NGO of underreporting foreign contributions and using them without government approval.
That order was overturned by a court in New Delhi before being reinstated by the national government two months ago. The move was believed to have restricted Greenpeace's activities significantly by banning the group from receiving foreign donations.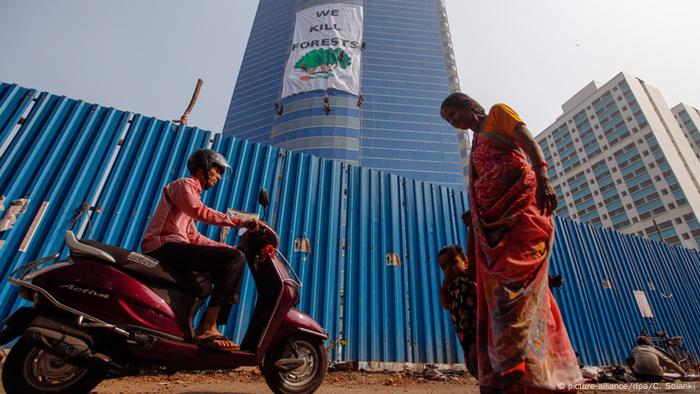 Greenpeace activists demanded energy giant Essar drop plans to plunder a huge forest to build a coal mine
Over the past year, India has cracked down on foreign-funded charities after an intelligence agency report said many groups were rallying communities against polluting industries. Its paper warned that any delay to key development projects could wipe as much as three percent off the country's annual growth figures.
More than 9,000 charities and other groups have been closed down for failing to declare details of overseas donations.
Greenpeace 'targeted'
Previously, Greenpeace has accused Indian authorities of placing its campaigners on a suspicious persons list and barring their exit from and entry into the country. One of the group's senior campaigners was offloaded from a flight to London, where she was scheduled to address British MPs.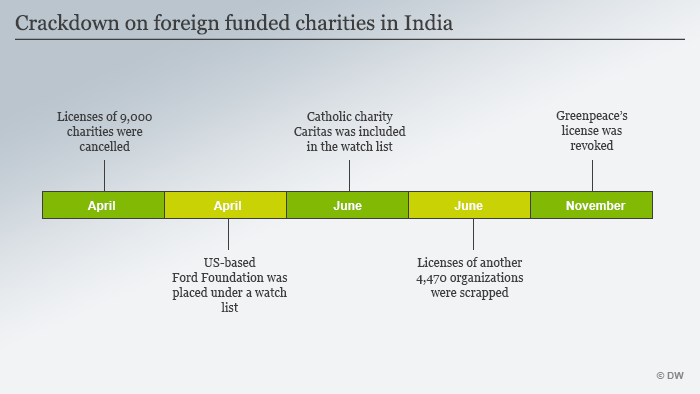 The US-based Ford Foundation and Christian charity Caritas have also been placed on an Indian government watch list.
India's Home Affairs Ministry was not immediately available to comment on the closure.
mm/rc (AFP, AP, dpa, Reuters)