Bangladesh Prime Minister Sheikh Hasina embarked Friday on a four-day visit to India that will see the signing of at least 25 bilateral agreements, including in the key areas of civil nuclear cooperation and defense.
During her visit, which comes after a gap of seven years, Hasina will hold wide-ranging talks with her Indian counterpart Narendra Modi. India is set to announce a $500 million (470 million euro) line of credit to Bangladesh for military supplies.
"The upcoming visit is expected to further expand the cordial and cooperative relationship between India and Bangladesh and build on the strong ties of friendship and trust between the two leaders," a joint statement issued by the two countries said.
The visit comes at a time when policymakers in New Delhi are increasingly worried about China's growing influence in South Asia, a region viewed by India as its backyard.
In a DW interview, Constantino Xavier, a South Asia expert at New Delhi-based Carnegie India, explains the current state of relations between the two countries and its future trajectory.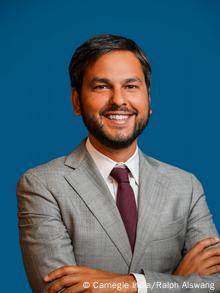 Constantino Xavier is a fellow at Carnegie India, based in New Delhi
DW: How do you view the current state of relations between India and Bangladesh?
Constantino Xavier: Relations are at an all-time high. Both countries are committed to transforming the Bay of Bengal region into a hub for connectivity and wealth between South and Southeast Asia. This is an attempt to revive a thriving Bay of Bengal community, which connected the region up until the 1950s, but has disintegrated since then. Creating a cooperative community in the Bay of Bengal will also help stem China's rising influence in the region, including via the Belt and Road Initiative.
What will both countries want to achieve during Hasina's trip to India?
India is focused on making Bangladesh a centerpiece of its Act East policy. Whether land-based or maritime, Delhi's connectivity plans for Myanmar and Southeast Asia rely crucially on transit rights and infrastructure development in Bangladesh. It currently takes longer to ship a container from Delhi to Dhaka than to Singapore, so if India wishes to transform its region into an engine for economic growth, it will have to focus on integrating its markets and removing obstacles to cross-border flows of goods, services and people.
India's efforts align with PM Hasina's attempt to give Bangladesh more strategic influence in the region, including assuming a leadership role in the Bay of Bengal. India was a key regional player that supported her controversial government formation in 2014. PM Hasina will also seek New Delhi's continued engagement as she prepares for elections next year.
How strategically important is Bangladesh for India, given the inroads China has been making in recent years?
India's focus on Bangladesh is driven by three key objectives. The first is to rope in Bangladesh as a key stakeholder on increasing connectivity in the Bay of Bengal region and to make it a hub for India's Act East policy in linking up with Myanmar and Southeast Asia. Another objective is to ensure a stable and democratic Bangladesh that is cooperative in stemming Islamic radicalization in the region. Third is to limit China's plans to convert economic assistance into political and security leverage over Bangladesh as it did in Sri Lanka.
What advantages, if any, does India have over China in countering Beijing's growing influence in Dhaka?
As noted by a minister from Bangladesh recently, India's economic assistance is open-ended and less imposing than China's and this lets Dhaka decide which projects best suit its developmental interests. PM Hasina has also focused on countering Islamic radicalization and terrorist organizations, which has led to intense security cooperation with India. There are also strong cross-border cultural links which connect India and Bangladesh, despite occasional tensions.
How do you see the competition for influence over Bangladesh playing out between China and India in the coming years?
While some Bangladeshi experts argue for a tit-for-tat balancing strategy with China, the intimate ties of geography, history and culture determine that Bangladesh cannot pursue a blind policy of equidistance between Delhi and Beijing. Attempts to deviate from this have led to occasional tensions in the past, but the current positive bilateral momentum is due to PM Hasina's informal "India first" focus on key issues that impinge on Indian core security and economic interests.
Constantino Xavier is a fellow at Carnegie India, based in New Delhi. His research focus is on India's foreign policy and South Asian regional security.
The interview was conducted by Srinivas Mazumdaru.