A defiant Republicans party candidate told a media conference on Wednesday that he would continue to campaign to be France's next president despite being called for by magistrates to be charged.
"I have not embezzled public funds. I entrusted some parliamentary work to my relatives because I knew I could rely on their support," Francois Fillon told reporters, referring to claims his wife - who also faces charges - and two of his children were paid for parliamentary work they did not complete.
Fillon went on to accuse prosecutors of timing their summons to coincide with a March 17 deadline for parties to confirm their candidates ahead of France's two-round election in April and May.
"From the start, I have not been treated like anyone else facing the justice system," the 62-year-old said.
Summons confirmed
The former prime minister confirmed he'd be summoned by magistrates.
"My lawyer has informed me that I will be summoned on March 15 by magistrates in order to be charged," he said, before going on to denounce the probe as having eliminated the presumption of innocence.
"I will not give in, I will not withdraw," said a visibly upset Fillon. "I will be there when democracy chooses the future of France."
French media reported earlier in the day that Fillon had been summoned by magistrates investigating the so-called fake jobs scandal, where the politician is alleged to have paid his British-born wife, Penelope for official Senate duties she didn't perform.
Paris' magistrates were appointed by financial prosecutors last week to look into the "fake jobs" case, following revelations by satirical newspaper "Le Canard enchaine" in January.
Repeated denials
Fillon has denied wrongdoing several times before, insisting his wife carried out genuine work as his parliamentary assistant. But he had earlier promised to step out of the presidential race if he was placed under formal investigation.
Within two hours of his speech, his campaign manager Bruno Le Maire resigned, saying Fillon's u-turn had prompted the decision.
"I believe in keeping one's word. It is vital to the credibility of politics. It is a necessary quality to be able to calmly lead France's recovery efforts," Le Maire said in a statement on Twitter.
Earlier on Wednesday, Fillon, who had at one stage been widely tipped to win the presidency, canceled a trip to a key agricultural fair in Paris without explanation, leading to speculation he may pull out of the race.
The show is billed as a rite of passage for all hopefuls with eyes on the Elysee Palace due to the power of the agricultural community in France.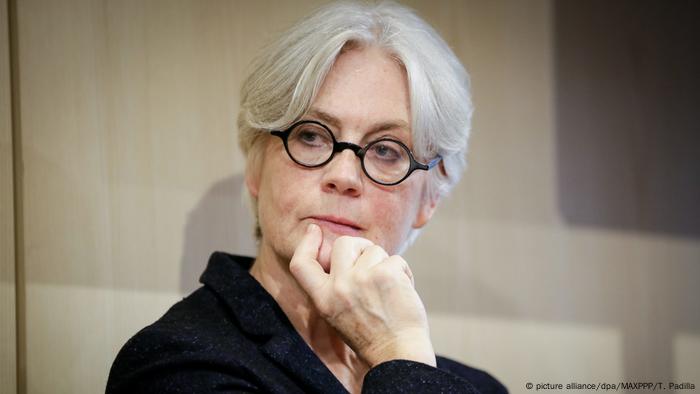 Penelope Fillon and two of their five children, are alleged to have earned more than a million euros over several years, paid from public funds
Conservatives confer
A source close the Republicans party said Fillon held talks with senior members of the party on Wednesday. Just two weeks ago, the party had agreed to back his candidacy despite the furor.
Several party allies backed his decision to stick with the troubled campaign, while rival centrist candidate Emmanuel Macron said it was important for investigators to their jobs.
Far-left candidate Jean-Luc Melenchon tweeted his anger that Fillon was asking "citizens to vote to give him immunity. This is not the meaning of the election," he said.
Later on Wednesday, Centrist party UDI also "suspended" its participation in Fillon's campaign, though the party's youth wing had already defected to Macron.
Scandal-marred campaign
After his selection by the Republicans, Fillon was initially the frontrunner to win the presidency.
But his campaign has been rocked by the damaging allegations that his wife had received hundreds of thousands of euros over several years in the "fake jobs' scandal.
Since then, two of his children have been implicated too, for allegedly holding temporary jobs while trainee lawyers.
Support plummeted
When the so-called "Penelopegate" scandal hit, Fillon's campaign hit the skids, and much of his support shifted to Macron, an independent, centrist candidate.
Macron, together with far-right leader Marine Le Pen, are now most likely to proceed to the second round run-off of the presidential election on May 7.
Fillon's scandal has spooked investors who fear that the anti-euro, anti-immigration candidate Le Pen now has a higher chance of becoming head of state.
mm/sms (AFP, AP, Reuters)