Like any good politician, US Secretary of State John Kerry understands the symbolic importance of a photograph. The image of him standing alongside the respective leaders of the long divided Turkish and Greek communities in Cyprus, shaking their hands simultaneously in a show of international goodwill, has sparked excitement about the island possibly being on the cusp of achieving its long sought-after peace settlement.
Kerry himself said as much during his visit to Cyprus on Thursday.
"I am more convinced than ever that a resolution to the long-standing division of Cyprus is within reach," Kerry told reporters.
For many, Kerry's words will elicit feelings of déjà vu. After all, the island, which has been divided for more than four decades, has seen its fair share of stalled negotiations over the years.
Different this time?
Seasoned Cyprus-watchers suggest this time is different, however. A number of factors – including a radically altered political climate both inside and outside Cyprus – have made a deal more likely than ever before.
"If you're not going to do it now, then you're not going to do it," Dr. James Ker-Lindsay, Senior Research Fellow on the Politics of South East Europe at the London School of Economics, told DW, referring to the attitude driving the latest push for peace between the two sides.
He and other people familiar with Cyprus who spoke to DW agreed that peace talks have reached a critical stage. However, they also expressed ambivalence about how effective a deal would be in sustaining a peaceful unification on the island.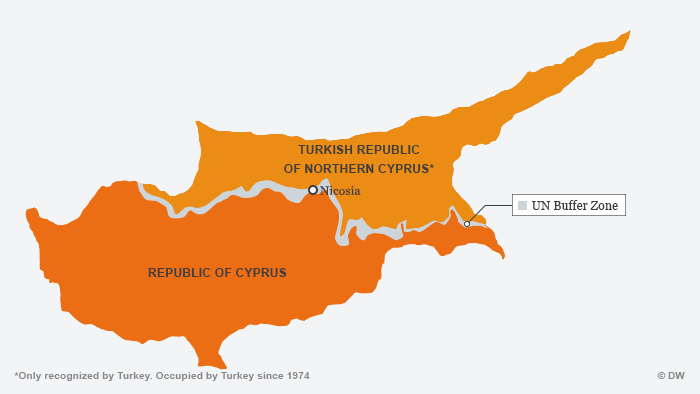 New factors driving peace talks
Cyprus was divided in 1974, when Turkey occupied its northern third following an attempted Athens-supported coup launched in an effort to make the island part of Greece. Since then, a UN-enforced buffer zone has divided the internationally recognized, predominantly Greek Republic of Cyprus in the south from the Turkish state in the north, which is known as the Turkish Republic of Northern Cyprus and is only recognized by Ankara.
Over the years, there have been negotiations for both sides to reach an agreement.
Indeed, as Nicholas Karides, a former journalist and current public affairs specialist in Cyprus who once worked for the Delegation of the European Commission in the capital of Nicosia, told DW regarding the current talks: "We've definitely been here before."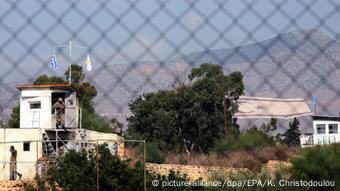 Cyprus was divided in 1974, when Turkey launched an invasion after a coup
The last time there was such a strong push for the island to reach an agreement was in 2004, when a referendum was held to determine if the public approved of the UN's proposal for reunification. While more than half of Turkish Cypriots voted yes, an overwhelming majority of Greek Cypriots – 76 percent – voted no.
Still, Karides said the pragmatism of the current leadership suggests an agreement today could be possible.
"The two leaders have a better personal relationship," he said, referring to Greek Cypriot President Nicos Anastasiades and Turkish Cypriot leader Mustafa Akinci – the two politicians seen shaking hands with Kerry this week.
'No playing blame game'
Erol Kaymak, head of the Department of Political Science and International Relations at Eastern Mediterranean University in northern Cyprus, called it "a first" to see current negotiators trying to work together and "not engaging in blame games."
"Both [Anastasiades and Akinci] seem to understand that a settlement is better than no settlement," Kaymak told DW.
Other factors are driving the current peace talks, including the discovery of natural gas deposits off the island's coast. Karides said that fear of this discovery becoming "a confrontational element" between Greek and Turkish Cypriots has led international leaders to push for an agreement before that happens.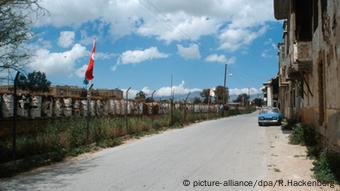 Some doubt there is much will to cooperate between the island's two communities
Ker-Lindsay said politicians on both sides are also driven by concern over wayward Turkey, which once expressed interest in joining the EU but now appears to be moving in a more autocratic direction. If either side rejects reunification this time, Ker-Lindsay said, then "they will be cementing that partition," with the northern part of the island becoming even more closely integrated with "a very worrying Turkey" – something that troubles Greek Cypriots as well as their Turkish counterparts.
With peace talks come questions
While such factors might be bringing leaders to the negotiating table, they still don't determine how the general public will vote if another referendum is held. Those who spoke to DW seemed to suggest divisions between the people of Cyprus could prevent them from fully endorsing a deal.
Karides said a key problem for everyday Greek Cypriots remains Turkey, which continues to exert its influence on the northern part of the island and could possibly continue to do so after reunification.
"At the end of the day it is a question of trust," he said. "In my mind, in their heart of hearts the Greek Cypriots do not trust Turkey."
Kaymak echoed Karides' ambivalence, but suggested the problem was even more fundamental.
Little will for working together
"I don't really see that the communities on this island are prepared to work together in a constructive political, civil culture," he said. "They're still accustomed to their ethno-nationalist perspective."
For that reason, he said he's not optimistic about the idea of a lasting, peaceful reunification, while also noting that Greek and Turkish Cypriots can still co-exist with each other in their current state.
"How can you make sustainable peace?" he asked.
While he didn't have a direct answer to that question, he said one thing was clear: John Kerry shaking hands with a pair of politicians is not enough.
Vučić € Erdoğan Käßman Tiếng Việt chữ quốc ngữ Đông Hồ Hoàng Cầm Nguyễn Tấn Dũng enchaînement Noël