Just outside Belgrade's city center, between a Roma settlement and a garbage dump, stands a cluster of barracks that have served as a refugee camp since the 1990s. Originally opened to house people displaced by the Yugoslav wars, the camp still holds about 100 Croatian Serbs.
One of them, Jela Vuksa, a camp resident for more than 20 years, now passes her days watching busloads of new refugees arriving from the Middle East.
"Look, here they come!" said the 74-year-old grandmother while sitting on her porch in a blue flower print dress. "This group has so many children. I hope they put them in one of the good barracks."
The camp, officially called the Krnjaca Asylum Center, opened its doors to newcomers last summer as the flow of Europe-bound refugees increased drastically. Since then, refugees from the Balkan wars have been living here side-by-side with contemporary refugees, and in doing so, the two groups are finding common ground in their shared experiences.
"They are equal to me," Vuksa said. "Anyone who is forced to leave their home is going to have a hard life. We are in the same situation, and I understand them because we all need help sometimes."
Parallel stories
When Vuksa hears war stories from Syrian and Afghan refugees, she cannot help thinking of her own. Aside from crossing a body of water on a rubber dinghy, she said her personal experience is very similar to what is now happening in the Middle East.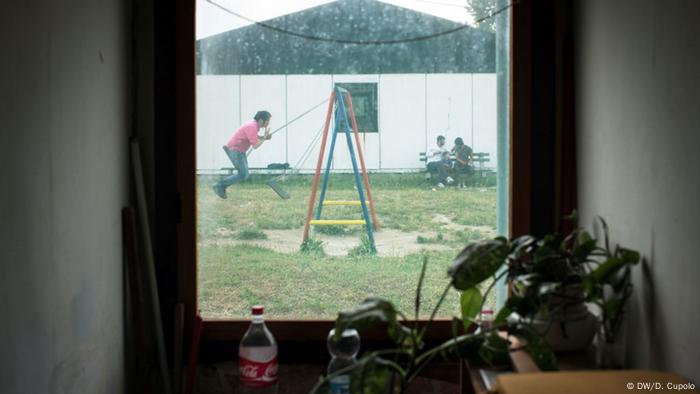 The Krnjaca camp doesn't offer luxury, but it does offer refuge
"Only adults understand the bad moments," Vuksa said. "The younger ones don't know what's happening and won't remember, but that doesn't mean it's easy for them either."
Back in 1995, when she first arrived at Krnjaca camp, Vuksa said she couldn't stop crying. She had fled her home in Zagreb and watched helplessly as one of her sons died from gangrene after a bomb blast tore off part of his leg.
With her remaining son, daughter and husband, she settled into a new life in Serbia, quickly occupying herself by fixing up gardens for the barracks and cleaning the camp grounds - which served as a labor camp during the Soviet era. But her husband had difficulty adapting to life as a refugee and died of heart failure in 2000.
"When we came here and he saw how we were living, he was so ashamed," Vuksa said. "He didn't want to see his family live like this and his [blood] pressure went up.
"I see the same pain in the faces of the Arab refugees. No father or mother wants to see their children in bad conditions," she added.
Staying put vs. moving on
Today, Vuksa's children and grandchildren look after her, bringing her bread, tea and apples on a weekly basis. When asked why she stays alone in the camp instead of moving to a retirement home, Vuksa says she prefers to stay in a place she is accustomed to.
She's not the only one. According to camp coordinator Milutin Lucic, the Serbian government has been trying to relocate Krnjaca's longtime residents into subsidized apartments in Belgrade, but many refuse to move.
"They don't want to go because they have everything they need here," Lucic said. "If they move, they will have to cover their own bills and food costs."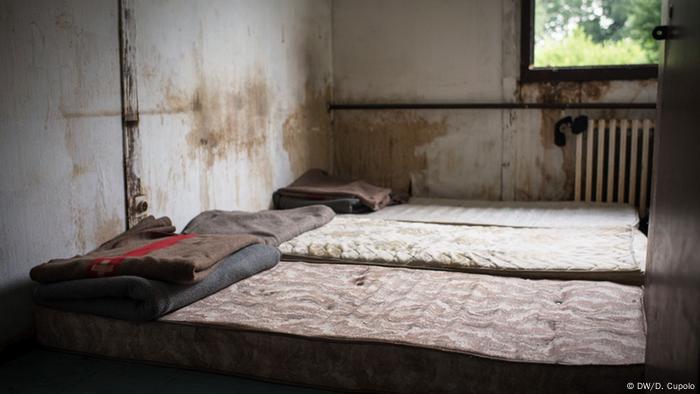 The Krnjaca Asylum Center offers more than 600 beds to new and longtime refugees
Their refusal creates a peculiar situation where Croatian Serbs stay put in the camp as more spaces are created for EU-bound asylum-seekers, whose numbers have remained steady through the spring, Lucic said.
Despite efforts to stem the migration flow from Turkey, an average of 200 new refugees enter Serbia daily from Macedonia and Bulgaria, according to local humanitarian workers, who say most arrive and leave the country via human trafficking networks that have flourished since the closure of borders along the Balkan route.
"The reality of the situation forces us to be a mix between an asylum center and a transit camp," Lucic said. "Less than one percent of the new refugees apply for asylum in Serbia, and many of those who file documents end up leaving before their requests are processed."
In response to recent trends, Krnjaca underwent renovations that have made more than 600 beds available inside the camp. Several barracks were also fixed up, and their bright, new exteriors sometimes stir jealousy among longtime camp residents.
Lucic said their bitterness is misplaced. "[The renovations are] just make-up so the buildings look nice on the outside," he said. "They look new, but they are the same inside."
Advice from one refugee to another
Still, most camp residents remain sympathetic towards the new refugees and urge them to leave Serbia.
"Coming here was the biggest mistake of my life," said Ilija Gaspar, a 55-year-old Croatian Serb. "It would have been more clever to go north to Austria or Germany … They have the right idea."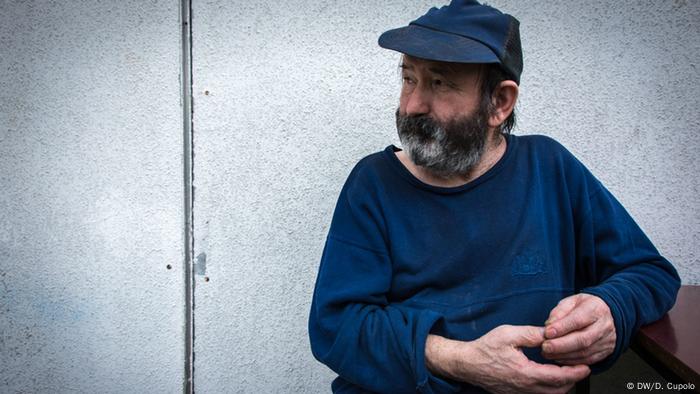 Ilija Gaspar said people are the 'happiest in their home countries'
Another Croatian Serb, Slobodanka Babic, who works as a reiki therapist from inside her barracks, said she agreed.
"There's nothing here for them," Babic told DW. "They need to keep moving. Serbia is not their place."
Sitting on her front porch, Jela Vuksa reflected on the current refugee crisis. "All humans deserve a place to sleep," she said.
When asked what she would tell the new generation of refugees, she replied: "One day, they'll need to thank the prime minister for receiving so many of them."