At this summer's FIFA World Cup in South Africa, the German team's line-up embodied the changing character of Germany. During a June public viewing in Berlin, Germany's Minister for Integration Maria Boehmer told the audience made up of young immigrants and non-immigrants how impressed she was that 11 of the squad's 23 members were either born outside Germany, or had immigrant parents.
"That's why I found it so important," Boehmer said, "when Mesut Oezil declared he was playing for Germany. That was a crucial decision. And I think that many people who grew up here should make the same choice."
That group is likely to have a significant impact on Germany's future. A January publication by Germany's Federal Statistics Office showed that in 2008, one in five of the country's 82 million inhabitants had a migration immigration background. Breaking that figure down, there were 7.3 million immigrants of non-German descent and 8.3 million people who had German citizenship, but either came from outside Germany or had at least one parent who did. People of mixed parentage represent a growing group in Germany.
Most immigrants to Germany came from elsewhere in Europe. Among those who did not, Turks topped the list, numbering almost three million in 2008.
The Federal Statistics Office also found that people with immigrant backgrounds tend to be younger than native Germans, with average ages of 34 and 45-years-old, respectively.
Controversial remarks
Just weeks after the euphoria surrounding the young, multicultural German team at the World Cup, German discussion about integration took a different turn. Top German banker Thilo Sarrazin published a controversial book called "Deutschland schafft sich ab" (Germany is doing away with itself) in late August. Claiming to defend German identity, Sarrazin depicted immigrants as unwilling to integrate.
Sarrazin already had a reputation for rude remarks about unemployed people and immigrants before the book came out, and had called for higher barriers to immigration.
In his book, he wrote that Turks and Arabs were intellectually inferior, and claimed Jews possessed a gene that made them different from other people. During the furor that followed, German's central bank, the Bundesbank, asked Sarrazin to resign from his position on its board, and he eventually did so. The opposition Social Democrats also began proceedings to kick him out of the party.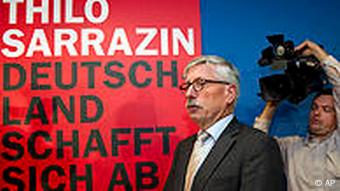 Sarrazin's book sparked fierce debate
Sarrazin saw large differences between foreigners already living in Germany, especially in terms of their education.
"Integration problems last no more than a generation," he wrote, "for immigrants from eastern Europe, India, China or Vietnam." After that, those groups pursued education and competed on the job market better than Germans. Yet Sarrazin left the country's more than four million Muslims out of his praise.
His sweeping claims about Muslim immigrants drew numerous objections. The opposition included Ayguel Oezkan, minister for integration in the German state of Lower Saxony, who has a Turkish background herself. She said it was important to analyze migrants' problems. But she also said it was unacceptable to do so in "a contemptuous manner, in which you take groups such as Turks and Arabs and put them in a corner without appreciating what they have done—both in the first generation, and on a regular basis to this day."
A January report by Germany's Federal Statistics Office revealed some of the obstacles facing immigrants. The office found that 14.2% of immigrants in Germany have no school leaving certificate, compared to just 1.8% of all Germans. 44.3% of immigrants have no professional qualification, while 19.9% of Germans are in the same situation. And 12.4% of immigrants between the ages of 25 and 65 are unemployed—about twice the rate of their German counterparts.
Language the key to professional success
Integration Minister Maria Boehmer, meanwhile, has emphasized the importance of learning the German language. She said, whoever wants to be as successful as Mesut Oezil or his teammate Sami Khedira, the son of a native German and a Tunisian, must master the language of the country where he lives. Only then could migrants take advantage of the opportunities their adopted country offers them. "If you do not speak the German language in this county," Boehmer said, "then you are just a visitor here."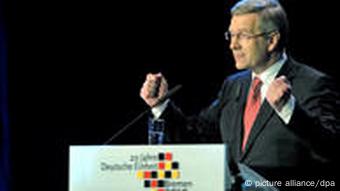 Wulff envisions an inclusive Germany
The next turn in the integration debate came from German President Christian Wulff. Before he took office, he had promised to put the topic at the top of his agenda. Elected in June, Wulff's first major speech came on October 3, the 20th anniversary of Germany's reunification. "Christianity undoubtedly belongs in Germany," he said. "Judaism undoubtedly belongs in Germany. That is our Judaeo-Christian history. But now, Islam also belongs in Germany."
Wulff's proclamation came during a time of economic uncertainty in Germany. The country's export-oriented economy eventually recovered from the global economic crisis, in the last fiscal quarter of 2010, and a surge in demand for German high quality goods allowed companies to start hiring again. However, this raised concern over a shortage of skilled workers.
Germany's Economics Minister Rainer Bruederle, Labor Minister Ursula von der Leyen, and Education Minister Annette Schavan spoke out in favor of relaxing rules for foreign workers to come to Germany. The idea met with vehement opposition from Horst Seehofer, leader of the conservative Christian Social Union in Chancellor Angela Merkel's government.
Seehofer called for an end to the inflow of immigrants from other cultures, saying training for unemployed people should be given absolute priority over immigration.
He made a provocative proclamation of his own at a party meeting in October. "Multiculturalism is dead," Seehofer said. "Our party is taking a stand for German culture and against multiculturalism."
Immigrants moving forward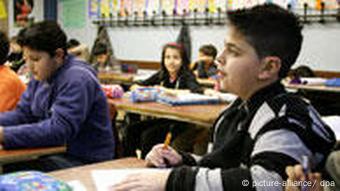 Politicians have urged immigrants to learn German
For people with immigrant backgrounds, the year was filled with both expressions of support and criticism. However, a positive year-end note came in the form of an international study comparing schoolchildren's abilities. The study showed remarkable progress in Germany over the last ten years.
The Organization for Economic Cooperation and Development's Program for International Student Assessment (PISA) found that the vast majority of Germany's lowest scoring students come from less wealthy families, families with immigrant backgrounds, or both. And while the performance gap in Germany is still greater than in most PISA participants, the study also noted that the discrepancy had shrunk considerably in the past decade. That suggests people with immigrant backgrounds in Germany are catching up with their counterparts around the world.
Author: Sabine Ripperger (srs)
Editor: Susan Houlton